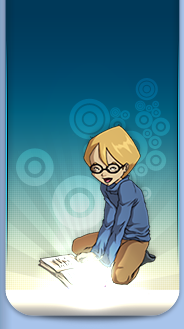 Interview with Marin Lafitte
Marin Lafitte Interview


Actor playing Jeremy Belpois




Find plenty of information in this interview on Marin Lafitte!

Being in contact with the actors thanks to our partnership with Moonscoop, CodeLyoko.fr had the opportunity to interview Marin Lafitte in a private Skype conversation. Here is a write-up of the exchange between him and the site editor. Enormous thanks to Marin for partaking in this little game of questions and answers!

For more information on Marin (General, photos, media, etc.),
>> Visit his "Actor" page <<

[Marin Lafitte Interview] [Marin Lafitte's Chinese portrait]
CodeLyoko.fr Team: Let's start outside of Code Lyoko! Can you tell us in detail about your hobbies and interests?

Marin Lafitte: My passion is magic. Everything concerning magic and its performance! And photography just as much! In short, everything that is artistic.
I also equally like surfboarding. I do it each summer in the southwest near Arcachon! It's only a pastime, but I make it work!
And finally, my close friends are also a passion in a big way.

CodeLyoko.fr Team: You were telling us about magic. Are the different shows for kids that you've created related to that?

Marin Lafitte: I've always done magic at my home, and the shows for kids are done in my school show "Children of the comedy" where I've taken 8 hours of classes a week since 2009.
On top of that, we also did other shows for kids in the hospital.

CodeLyoko.fr Team: Can you describe yourself in 5 words?

Marin Lafitte: Nice, funny, agreeable, sympathetic, and heated.

CodeLyoko.fr Team: Can you confirm for us that Code Lyoko Evolution is your first role? You didn't have other roles in films or elsewhere?

Marin Lafitte: It is my first role! Aside from Code Lyoko, I did work for some extra parts and some small films.

CodeLyoko.fr Team: Would you like to be an actor in the future?

Marin Lafitte: I would really like that, in fact. Even though I know that it is very complicated: There is a lot of demand and few positions. I would at least like to work in the art field! To be an agent, director or something else. Even if I'd still prefer to be an actor anyway.

CodeLyoko.fr Team: Is there an actor or an idol that inspires you more than the rest?

Marin Lafitte: That would be Jean Dujardin without hesitation.

CodeLyoko.fr Team: Were you familiar with the series, Code Lyoko, before applying for the role?

Marin Lafitte: Yes, I was. But I wasn't a fan of it. Even so, before the shooting, I watched some episodes anyway to be able to inspire myself for my character and, ultimately, I liked it.

CodeLyoko.fr Team: What did you like or dislike in the original series?

Marin Lafitte: What I didn't like were the 2D graphics that I didn't think looked very nice. On the other hand, what I liked was the fabricated world that could exist... In any case, I get the impression that it could exist. I like this magical side.

CodeLyoko.fr Team: Since you weren't a fan, you didn't hope for a follow-up to the series?

Marin Lafitte: No, I believed it didn't matter anymore, simply put.

CodeLyoko.fr Team: In the little that you saw, were there certain episodes or certain scenes which stuck out to you more than others?

Marin Lafitte: In Code Lyoko, I remember scenes that were funny: When Aelita discovers the real world, and she learns about its history, she is shocked by the things that people have done. There was also another scene where Aelita had a concert and DJ'd.

As for Code Lyoko Evolution, the whole first scene of the casting that I knew by heart and gave my all!
The live-action scenes with Etienne Chicot, who plays Laura's father, also left me with some good memories.
And finally the last scene, which was touching!

CodeLyoko.fr Team: Last question on the original series, did you like your character?

Marin Lafitte: I learned to like him, but I hated him before.
When I was accepted for the casting, I was with Gulliver, Léonie and Pauline. Gulliver and I were both taking turns playing the characters of Jeremy and Odd! At first, I absolutely wanted to be Odd! I really believed that I was Odd, but at the end... Nope! That made me a little disappointed. But they chose well since Gulliver is really Odd.

CodeLyoko.fr Team: Was it your agent who got you in the casting?

Marin Lafitte: No, I still didn't have an agent at that time. At the start, I was picked out by the casting director, Christine Robin, during a showing of "Children of the comedy."
I was happy since I went to my first casting. I gave the maximum effort and voila!

CodeLyoko.fr Team: Can you tell us more about the week when the actors met each other?

Marin Lafitte: That week, we all learned, we didn't know, we learned that we would all go to live together for two months. We worked relentlessly, we were around a table, we practiced with the tutor, we ate, and in the afternoon, we practiced again. We became really bitter, but it was useful and really nice. There was a good atmosphere, so after some time, we began to really like going there.

CodeLyoko.fr Team: What kind of exercises did you do? Only practicing scenes?

Marin Lafitte: We talked things over as we got angry if we couldn't get it right... That sort of thing.

CodeLyoko.fr Team: Did they show you the episodes of the first series? Or did you personally take the initiative in watching those episodes?

Marin Lafitte: No, we weren't shown anything. With Gulliver, we watched some of the episodes during lunch while practicing. Afterwards, I voluntarily watched some episodes again before the start of the shooting.
They also suggested that I watch this movie that had a kind of "team boss," who was sort of the equivalent to Jeremy in order to inspire me!

CodeLyoko.fr Team: As for meeting with the other actors, did you quickly become friends?

Marin Lafitte: Very quickly, in only a day, we all began to get along well. With Gulliver, we became friends very quickly, that was one of my best meetings. Mélanie wasn't there, since she was recruited so lately.

CodeLyoko.fr Team: What were your feelings during the shooting? How was the atmosphere? How was the relationship between the live-action teams?

[Note by the CodeLyoko.fr Team: Pauline, Gulliver and Marin, minors, were lodged in a house with a supervisor. Diego, Quentin, Mélanie and Léonie, legal adults, were in a house next door and independent.]

Marin Lafitte: It was great. There was a superb atmosphere on the set and in the two houses where Gulliver, Pauline, the supervisor and I as well were living.
We prefered, however, to go to the other house, since we were a little more free there. Due to the stress of shooting, during the night, we needed to let loose a little. We got a bit on the nerves of the supervisor. So then, we all joined back up in the room to talk and have fun. We often went to the other house, unless we weren't doing anything.

CodeLyoko.fr Team: Was there an actor or an actress who was easier to work with? Or who you got along with more when acting?

Marin Lafitte: I really liked working with Mélanie, because she helped me a lot. She gave me plenty of advice. She was like a sister.
In the evening, in the house with Pauline and Gulliver, there was a really great atmosphere, because we were the same age. We got along really well with each other in every way!

CodeLyoko.fr Team: Have you met up with each other at all now that the shooting is over?

Marin Lafitte: I saw Gulliver during the post-synchro. The last time I saw Pauline was at the second advance-premier, with the live-action team. But we spoke a lot by text! We all keep in touch, but we're going to be able to organize something together soon anyway!

[Note by the translator: Post-synchro is a part of the post-production process where lines are dubbed or re-dubbed.]

CodeLyoko.fr Team: Do you keep in touch a bit with Léonie in Ghana?

Marin Lafitte: Yes, she sends us messages.

CodeLyoko.fr Team: What aspects of your character are the hardest to deal with for you?

Marin Lafitte: It's when Jeremy messes up, because he lacks confidence in himself... And yet, Jeremy shouldn't lack confidence! It should all be clear. Yet from one day to the next, to be in this mode of "I don't know what I'm doing, I'm lacking confidence," that, that was hard.

CodeLyoko.fr Team: What was the most memorable moment of the filming for you?

Marin Lafitte: There were plenty, in fact. There was when I met the actors! That wasn't the shooting per se, but meeting them was the start of a long story...
And also the last day... The last day was great! I was alone, because the group was split in two for that part of the shooting. I was to the side, with Mathieu, the first assistant-director. We were shooting the parts in the lab with the green screen. The rest of the group was shooting the passage through the sewers between the school and Lyoko... After that, the two groups rejoined and it was the end of shooting.

CodeLyoko.fr Team: It wasn't too hard always having the scenes in the lab while the others were maybe more at Kadic or outside?

Marin Lafitte: Oh, it sucked after a while! Haha! At first, it was kind of my dream... I was dazed for two days... And then after some time, I was more like "I can't take it anymore, I want to get out!" In the lab, it was super hot, it was unbearable... When you stay there all day long, but really all day long, after awhile, it's really hard.
Especially that I was the only one who was there all the time!

CodeLyoko.fr Team: Would you like to see Jeremy on Lyoko?

Marin Lafitte: Ah, I would really like to see that! I hope that in the next season, we can see him on Lyoko! Even if he is ridiculous, I would like to see how he would look!

CodeLyoko.fr Team: Let's talk about the post-production. Were you a part of it a little?

Marin Lafitte: Yes, I did the dubbing and especially the voiceover! That made me really happy. I was happier during the post-production than when I was filmed. It went much quicker.

CodeLyoko.fr Team: So, have you been following all the episodes? Do you wake up each Saturday morning to see them?

Marin Lafitte: Yes, definitely! I saw the episode this morning before contacting you. But yes, now, I do all the time.

CodeLyoko.fr Team: Having been recruited a little "by surprise," did the shooting overwhelm your year? At the academic level or with your friends, in your personal life?

Marin Lafitte: I received some messages on Facebook by people from my school who asked me if I am Jeremy from Code Lyoko. It's funny.
My friends are proud of me. They are happy. Me too, it makes me proud what I did...
As far as grades go... The shooting and the post-production took a lot of my time... but it went well! My grades were not at the top, nor at the bottom, but I maintained them, because I gave my best effort!

CodeLyoko.fr Team: So you don't regret your two months of shooting?

Marin Lafitte: No, it's an experience that I absolutely wanted to do and that confirmed for me that I really do want to be an actor.

CodeLyoko.fr Team: As for your family, did they react well when you got the role?

Marin Lafitte: Absolutely. At first, they tried everything to make sure that I wouldn't be disappointed.
They were behind me, but they didn't want me to make too many films. It was complicated. There was a long trip ahead, but when I got the role, they were really happy.
Now, they are thrilled that I got to have this experience. Still, they remain behind me to help me and to keep an eye on me, because I am very young.

CodeLyoko.fr Team: If there's a second season, would you be game for it?

Marin Lafitte: Yes, without hesitation! It was great, and I really long to do it again and to see everyone again and to have back the atmosphere that we had together.

CodeLyoko.fr Team: Is it predicted in your contract that, if there is a season 2, you MUST be the one who plays Jeremy?

Marin Lafitte: No, not at all. We signed only for one season.

CodeLyoko.fr Team: Did the series make you famous? Are there some people who want to talk with you or who recognize you on the street?

Marin Lafitte: No, I don't have the same appearance without the glasses or the same hair. On the other hand, I am often requested on Facebook. One time, someone called for me on the street. It was a little Indian girl who came towards me and who asked me if I was Jeremy. I was really happy.
However, I have opened some of my spaces to the fans, like Twitter, and I prefer to keep other things for my close friends and family, like my Facebook and my Ask.

CodeLyoko.fr Team: And if you want to talk to them, there is CodeLyoko.fr, haha! Thanks for the interview!
My favorite subjects: French (literature and writing,) History
Least favorite subjects: Math, Physics (In fact, I am the opposite of Jeremy )
Future Career: I want to be an actor in the future
And when you were little?: I wanted to be a puppeteer or a clown!
Your 3 best qualities: Nice, sympathetic, confident
Your 3 worst qualities: Mocking, a little bit of a pain and uh after that I don't know...
Brothers or sisters?: I have 2 brothers and 1 sister
The person you admire the most: Mélanie Tran, especially for supporting me this summer
The last book you read: Les Misérables by Victor Hugo and The 3 Musketeers by Alexandre Dumas
Favorite sports: Surfing, badminton
Radio: NRJ, Fun Radio
What names will you give your children?: I will name my kids, Max, Tom, and Anna
If you had a magic lamp good for 3 wishes: To have every power, to be able to do all that I love and to have plenty of contracts
Favorite song: Infinity
Favorite movie: Le nom des gens
Favorite actor: Jean Dujardin
Favorite series: Code Lyoko, of course
Favorite colors: Black, gray, blue
Favorite food: It was lasagna but now, uh...



Chinese portrait: If you were...


An animal: Monkey
Words: I love you
A famous person: Martin Luther King
A planet: Mercury
A day: Saturday (WEEKEND ;3)
A girl's name: Sonia, Anna
A boy's name: Tom
A quality: Determined
A feeling: Happiness
A book: Anne Frank's diary
A cartoon: Code Lyoko ;3
A hero: Gandhi, Superman
A place in a house: On the couch in front of the TV! XD


Discovered CL in: 2007 I think
Favorite main character: ODD :3
Favorite side character: Jim :3 and Kiwi (Rest in peace! I remember that he was eaten in a Chinese
restaurant Isn't that so, Quentin?)
Favorite sector: Cortex
Favorite quote: The Lyoko Warriors are back! (said by Jeremy, of course)