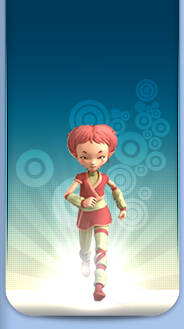 Kadic Album
A word from Icer:

Before you drool over certain aspects of this page, a little word from Icer, who was charged with updating this page. Older users will remember the old images dating from season 1. Thee following document however is perfectly official. Problem: many extras were added since...season 2. Without any official guidance this time but not wanting to leave them on the side, we've distinguished between them with a simple colour code: all the characters within a green square are completely official: their name, their class. The others are in a red square. For the rare few of you who are interested in that (I'm mainly talking about authors who wish to recount the characters while being as faithful to the series as much as possible), I'm going to explain the system adopted to place then without help outside of the series itself:
- First, all the nameless year 10 students. Primarily red, these are safe bets. They always appear when Yumi's class is used and they also appear together in the class photo in episode 34 (the only absent student was one officially in this class!).
- Then, the student 3 in Hiroki's class is also from a reliable source, given episode 75's context. And seeing his height, he surely isn't a year 10 student.
- For Zlicaric Valerie, her presence in the class of most of our heroes is also semi-certain, because she appears there very often. I was able to give her a reliable last name that was heard during the academic review. But, this surname was never attributed to any of the other students. And Valeria is the only one with an unknown surname. By deduction, we can attribute it to her. For the first time, it's a little less sure: it's heard two times during season 1 (she was already present contrary to the other non-officials, her anonymity is possibly a mistake), during roll call. Again, it's not attributed to any other student. Plus, we hear a female voice respond (it's therefore not a Valery).
- In the case of year 8, the adding of students 8 to 11 is allowed because in part, they're seen several times in the company of students officially in the same class, and we see them clearly in a few scene walking out of the same class as those students. A final logical argument: all the official students are boys. It's therefore not surprising to find four people of the opposite sex informally in this class.
- For student 9 in year 7, the reasoning is similar. Absence of a boy in the ranks... And small height! He also doesn't appear in episode 75 (he's therefore not a year 6 student). Still, unlike the year 7 girls, he's not clearly seen leaving the same class as the characters officially in this year group. This is therefore a slightly grey area.
- Michael is a character that only appears in episode 45 (he's already dressed suitably for the weather). The name is reliable, we hear Jim call him later. But as for his class... He's put with the year 8s because of his height (all the year 9s known, he couldn't be part of their class).
- Final controversial case: Emily Leduc. Presented as a student in Yumi's class in one episode, all the others indicate that she's actually with Jeremy, Ulrich, Odd and Aelita. Seeing the scenario of episode 22, it appears logical that an error was committed intentionally for the needs of the episode. Still, it was decided that she would be placed with the year 10s on this page, principally because...that allows for multiples of four, for the year 9s as well as the year 10s (and therefore pretty tables). In the end, we can consider that she's in one or the other.

And now, you can drool over it all!
| | | |
| --- | --- | --- |
| Cleary Johnny | Ishiyama Hiroki | Student 3 |
| | | |
| --- | --- | --- |
| Bedoyan Anouche | Costes Ninon | Dialo Sandra |
| Diop Tamiya | Fayolle Veronica | Munier Anne-Sophie |
| Solovieff Milly | Vigouroux Julie | Student 9 |


Brossard Tristan


François Pierre


Gosselin Xavier


Kantaoui Mohamed


Kieffer Lola


Rodriguez Emilio


Cheng Michael


Student 8


Student 9


Student 10


Student 11
| | | | |
| --- | --- | --- | --- |
| Abulabbas Sorya | Belpois Jeremy | De Vasseur Magali | Della Robbia Odd |
| Delmas Elisabeth | Ducroc Matthew | Florenceau Sophie | Gaillard Paul |
| Gauthier Theo | Girard Claire | Grandjean Tania | Jolivet Thomas |
| Klinger Heidi | Le Bihan Jeanne | Le Goff Romain | N'Guyen Naomi |
| Pépin Alexander | Pichon Herb | Piranet Yannick | Poliakoff Nicolas |
| Pujol Jean-Baptiste | Roux Bastien | Stern Ulrich | Stones Aelita |
| Suares Thierry | Ürgüp Azra | Xao Julien | Zlicaric Valerie |
| | | | |
| --- | --- | --- | --- |
| Burrel Matthias | Blaise Priscilla | Dunbar William | Fiquet Anais |
| Ishiyama Yumi | Lecuyer Maitena | Leduc Emily | Maillard Emmanuel |
| M'Bala Christopher | Savorani Caroline | Student 11 | Student 12 |
| Student 13 | Student 14 | Student 15 | Student 16 |


Delmas Jean-Pierre


School principal



Weber Nicole


Secretary



Perraudin Yolanda


School nurse



Klotz Hans
School psychologist
Counsellor


Brigitte Meyer


Maths teacher



Morales Jim
PE teacher
General supervisor


Hertz Suzanne
Technology and science teacher
Responsible for the year 9 students


Fumet Gilles


History/geography teacher



Chardin Gustave


Art teacher



Mr Mirti


Music teacher



Mr Caggia


Italian teacher



Rachel Kensington


English teacher



Lagrange Gaston


Kitchen and maintenance staff



Petitjean Rosa


Kitchen and maintenance staff



Riley Michael


Groundskeeper