Huston, we have a problem! A title with a double meaning? Well let's explain, at the start of this little chronicle it was just an alternative version of the original Findings of Dude Dudu aiming to condense the number of findings into a smaller set of news posts with the same amount of content. Except that in the meantime Dude Dudu has made other findings and let's just say that if he tried to publish all his remaining findings in this news post, it would be far too long (if you only knew what was coming...), oh yes... So let's say that...we're about to defy the laws of physics with a part 4/3 ;)
Musical show hero heads + MAJ Musical Show
Among the load of related products released in Spain and events during the period where the series found its success. The series had, and not many people know it, a musical show. Called "El show de Codigo Lyoko: la mémoria perdida". It allowed the spectator to "appreciate" the sight of the Lyoko Warriors in flesh and blood, or rather, as people dressed up as the Lyoko Warriors and dubbed by the official Spanish voice cast. If you're wondering what our heroes' masks could have looked like, well here they are!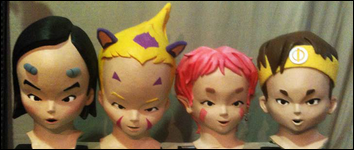 Which also allows me to simultaneously update the gallery dedicated to promotional images by adding the promotional poster created around the same time, even before the announcement of the future release of Code Lyoko Evolution:

Update to several sections in the "Related products" section
Yes! If you check out these pages, they've undergone a few changes, and not small ones.
Indeed, now, you can find most of the DVDs released for Code Lyoko with the most information possible (new jackets, a large number of interfaces and much more!) From the first French DVDs to the current box sets and the failed attempt to collect the series in volumes, the first English DVDs released by Funimation to the last released by Amazon and others from different countries, French CD-ROMs to American ones, come and admire these new pages bursting with incredible bonus features such as:
Also check out the Books section, which has received a well deserved facelift.
CLE special effects (photos)
Having to work on a live action series like CLE demands changes and new perspectives, such as the creation of numerous special effects (for a French series), ranging from the insertion of interfaces onto computers to X.A.N.A.'s attacks, some special effects are more discreet than you may think. Do you know for example that the team in charge of the special effects had to digitally erase all trace of Yumi's actress, Mélanie Tran's, tattoos on each shot of her back? And so here's a small before/after comparison of special effects.















Update to Kadic and factory backgrounds
Chronicle #58 back on 15/12/2013,
here's a link
(it's in French). It was the publication of several backgrounds from season 1 in great quality. But you know what? That's not enough, no. They can be found in even better quality! And I offer them to you today in exceptional quality.
Q&A with Sophie Decroisette (update)
Did you like the Q&A session from the previous finding? Because here's a new wave of responses right here. Sophie Decroisette, writing director for the first three seasons, agreed to respond once again to questions from Berik, who runs the Spanish website codigolyokonet.blogspot.com