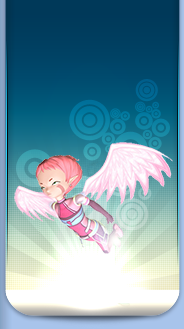 Archives de news
07/24

IFSCL 3.3.0 - Teaser Trailer !
Posted by Immu on 07/24/2016 at 20:00
(6 commentaires)
The new version of the most complete simulation of Code Lyoko's supercomputer is back in a new teaser trailer!

That's all for now. The complete trailer will be released next month. And the release date of IFSCL 3.3.0 will be confirmed at that point. Don't get too far!

Tou can take an eye on FB page, follow the creator twitter, or

react on the new reddit topic

You can still get more detail you might be looking for on the progression log. Thanks for your ongoing support!

06/27

The findings of Dude Dudu - 2016 edition - Part 2/3
Posted by Dudu on 06/27/2016 at 16:24
(3 commentaires)

Here it is, the second round of findings. 9 years after Code Lyoko ended, dive into the new findings and travel behind the scenes of the series. From the origin of the series to the final Code Lyoko Evolution merchandise after the success of the series in Spain. Enjoy and come back for more in 3 months' time!






Season 4 drafts / Merchandise
It's 2005, season 2 is being aired while behind the scenes at France 3, a third and fourth season have just been approved. And new seasons means new ideas, new stories and new things to explore: it's in this area that Michael Guarniere was asked to conceptualise various monsters that may have appeared in the following seasons. But that's not all; there's also work on season 4 costumes, as well as Marvel-made merchandise that was looked at. Here are all the images:
Scans of Spanish magazines
Let's step out of the digital universe to look at glossy paper found in the magazines released exclusively in Spain, another attempt to promote the series universe in the country...even if it didn't always work.

The first magazine in question is simply called "Codigo Lyoko Stickers Collection": published by the company E-max (which no longer exists) in English and Spanish, this album contains almost 200 stickers, most of which are renders from the 4 seasons and focus more on the Lyoko Warriors, the main secondary characters as well as the 5 Sectors and XANA's monsters.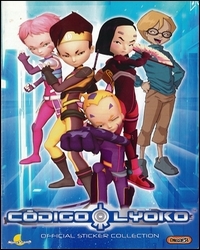 The second is much more recent, not only dating post-CL, but also post-CLE! Indeed, the Spanish, although they never had the "opportunity" to watch the 26 episodes of the sequel, bizarrely still had the chance to release a sticker album for the series. Published by Panini this time (which already released a sticker album in France in 2005), this album contained mostly screenshots, with brief information on the characters and episodes (with a summary for each of them) as well as a few renders from CLE and CL.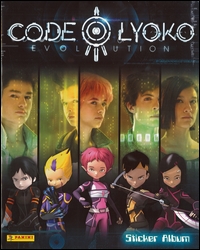 This third magazine is a new version of the previous sticker album above (thanks to the Spanish site codigolyoko.net), also published by E-max only in Spanish this time, it contains 200 new stickers, most of which are new renders.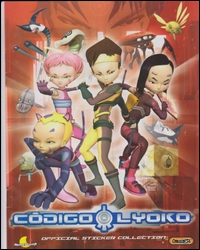 The final magazine is a collection of renders, released in 2014, this "magazine" lets its owner recreate their favourite scenes from the series by sticking these renders on the emblematic backdrops of Code Lyoko Evolution! (Well...on paper...these are actually just screenshots...)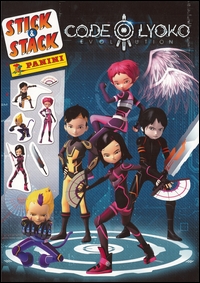 And finally, here's an update on articles on Code Lyoko released in Spanish news (mainly in "Clan Magazine", released by the channel that airs the series). As well as new articles, you'll also find out how to recreate Odd or Ulrich's outfits on your own, a test to discover which Lyoko Warrior you'd be good friends with, or even the first conceptual sketches of the characters of Code Lyoko Evolution. (Thanks also to the site codigolyoko.net.)

Code Lyoko trailer (HQ version)
This time, it's November of 2011, the series ended 4 years ago but is making waves in Spain. The idea of creating a sequel to Code Lyoko had already been anncounced, and the mother company is excitedly promoting the original series with the aim of creating a good reception for its sequel. Thus were created an amount of season 4 merchandise in Spain, such as the famous action figures, but also the Code Lyoko meetup in Spain, the musical comedy and the social game. Moonscoop's final goal was to take advantage of the craze provoked by this renewal so they could convince other countries to buy the licence to Code Lyoko and/or its sequel. To do that, Moonscoop created a brand new TV advertisement that it offered to different broadcasters and potential buyers. This ad is comprised of clips from all 4 seasons.

One small detail, you'll notice that the music at the end was created especially for this ad, but it was reused once and only once - in the trailer for Code Lyoko Evolution ;)
Interview with Sophie Decroisette
The writing director of the first three seasons of the series, Sophie Decroisette, accepted to play the question-answer game, responding to questions asked by Berik on the site codigolyoko.net, allowing fans to discover even more about the series.
And now we turn to something some of you may recognise. In French and in English, the DVD release of the series met a period of disaster. In France, you could find the first 9 episodes of season 1 on DVD and VHS, and that was it until 2008. It wasn't until after the release of season 4 when the first season was finally released on DVD in its entirety.
In the USA, its fate was more or less the same. After being able to find the first 14 episodes of season 1 and their respective bonus features on DVD, the production and distribution of DVDs skipped straight to the first episodes of season 2 on a single DVD before, once again, ceasing the release of this season and the one before it (before a 97-episode edition was made available on Amazon years later). (Translator's note: a complete season 1 disc set did come out around the same time as the third season 1 DVD "XANA Possessed", but it meant that if you'd already bought the original three volumes, in order to complete the season, you needed to re-purchase those 14 episodes by getting the complete season set. But in Australia we never got the complete season set...)
And it seems, that even though just one season 2 DVD was released, advertisements for a second began to surface despite the volume never hitting the shelves. So here's that advertisement.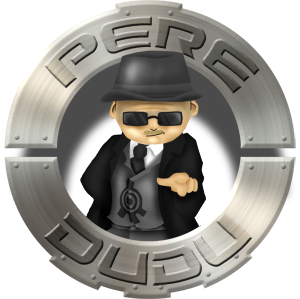 05/28

IFSCL 3.2.3 released!
Posted by Immu on 05/28/2016 at 09:58
(5 commentaires)

The IFSCL 3.2.3 is released !
To recap, this game allows you to get your hands on Jeremie's supercomputer and act as an operator who leads his friends in the digital world of Lyoko!
This version is available for Windows, Mac & Linux . In French, English, Italian, Spanish & Polish !
That new version includes a lot of new things, here's a sneak peek of it :
Major Features Recap :
desert sector




television

tons of new attacks



satellites windows


custom game menus

dna states & windows


the crypto smasher

tower inhibitors

powerplant windows


city map window

the phone

the real world localization of the lyokowarriors

Thanks for reading, and please react on the forum, the facebook page and so on to show your support and experience of the game, thanks :)


I hope you'll have a great time, you can download this new version here !
There's also a tumblr where you can share your screenshots, of course, I'm looking forward for all your let's play on youtube too!

http://codelyokofangames.tumblr.com/
https://www.youtube.com/results?search_query=ifscl
For more info, you can still get all the detail you might be looking for on the progression log.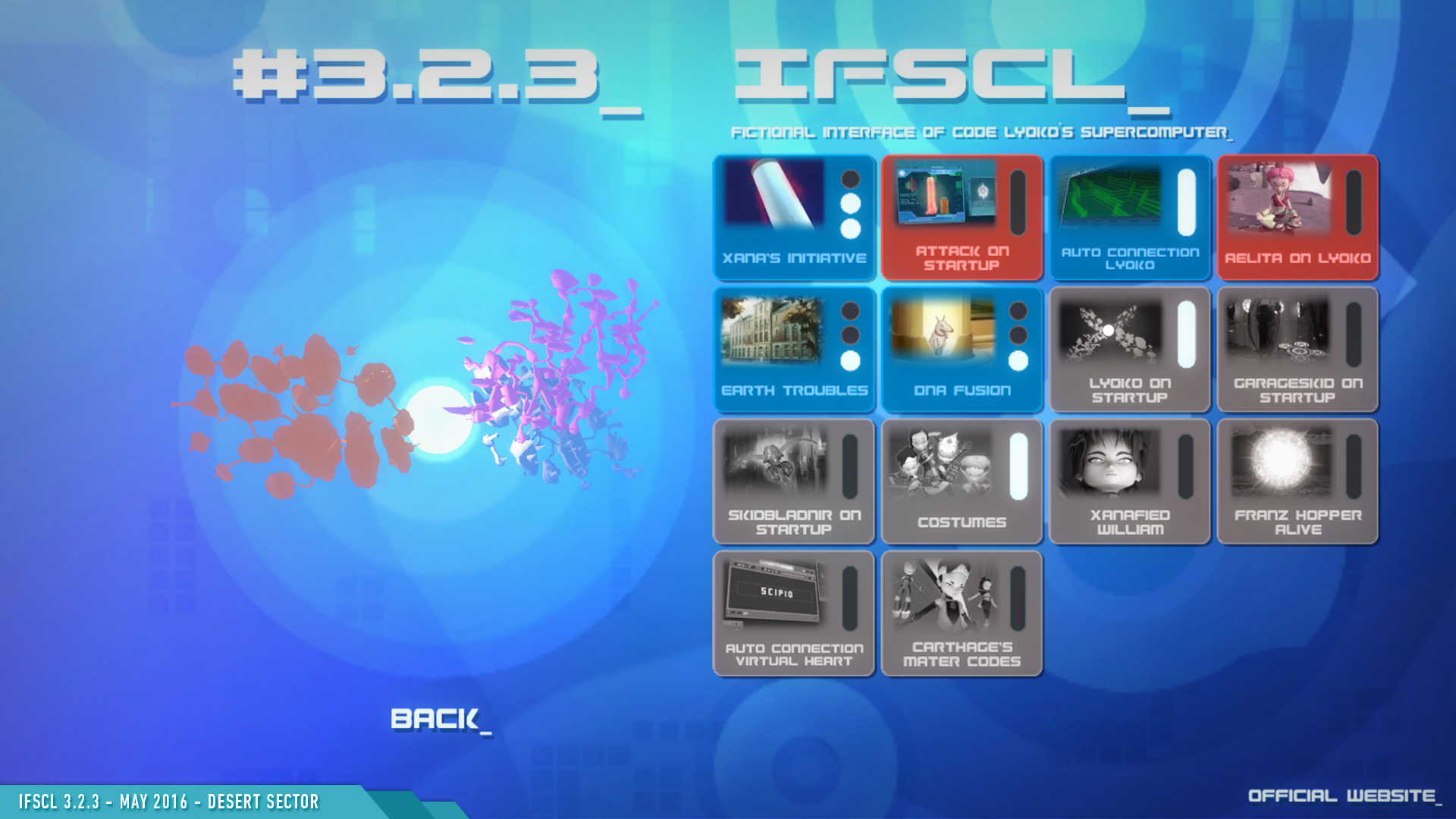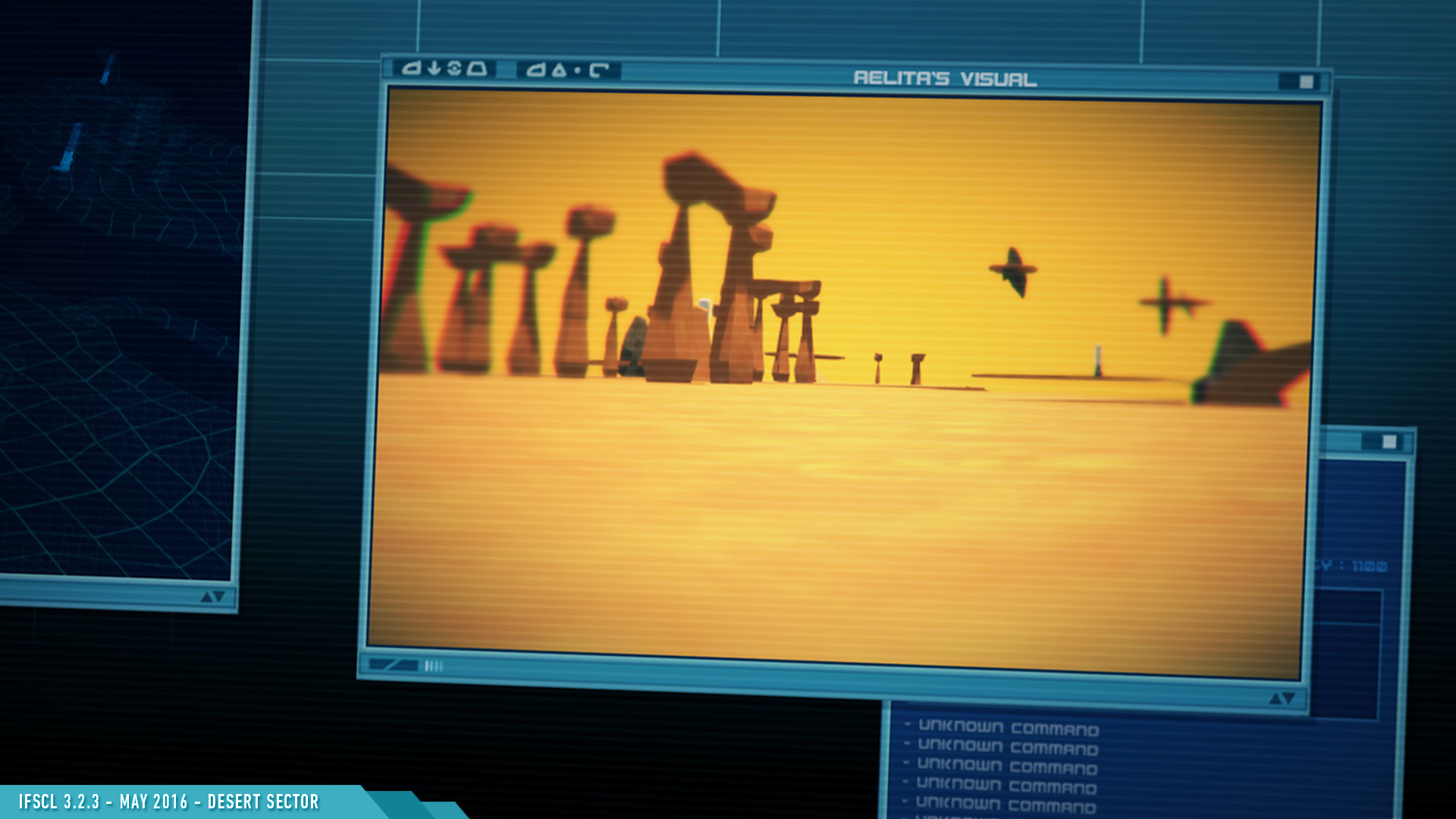 05/07

Updates to Evolution galleries
Posted by Shaka on 05/07/2016 at 14:20
(3 commentaires)

Hello everyone!

A little update to the site content for the weekend. And yes, it has been a while, but it can still happen! What's new in the Code Lyoko universe, you ask? Here's the story:

We all remember the somewhat chaotic French airing of Code Lyoko Evolution. In brief, episodes 1 to 19 in a single salvo on TV and iTunes...then the end of the broadcast, the subtitling of Hungarian versions of episodes 20 to 26 by Team Subsonics and the mysterious CodeRaclette (by the way, for those who didn't realise from seeing the logo at the time, it was us. We should've revealed ourselves a long time ago but our partner at Moonscoop stopped us, so we needed a...codename, dare I say!

). And finally episodes 20 to 26 aired later in France on Canal J.

As a result, our episode galleries for Code Lyoko Evolution were based on the best available quality for each episode, in other words:
- For episodes 1 to 19, perfect image galleries in 1080p without a logo (made from the iTunes episodes).
- For episodes 20 to 26, galleries in 480p with the Canal J logo (the version aired by the channel was the best we had available).


Back to the present.
TF1 seems to have ended up with the rights to Code Lyoko Evolution. As such, for a while, the episodes were available for streaming on the TFouMax website (but they've already been taken down). From this, our sleepy network (thank you Dauphy) noticed that the episodes put up were of a better quality than the Canal J episodes. And so episodes 20 to 26 were gathered.
We then launched a call for volunteers on the forum and after serious work from one member (big thanks to WR104) and our usual team, the galleries were ready to be updated.

So, the galleries for episodes 20 to 26 are now available in the best possible quality, that being 720p (instead of 480p) and especially without a logo.
We've also added the title cards for episodes 1 to 10, which had curiously gone missing.

Knock yourselves out updating your screenshot collection with ones of Tyron, the Scyphozoa or the unforgettable Mr Rouiller...



And have a nice weekend everyone!
Don't forget to keep in contact with CodeLyoko.fr.
Despite the end of the series, the site can still receive a few nice updates this summer...

04/18

v.3.2.3 Trailer/Infos!
Posted by Immu on 04/18/2016 at 17:22
(2 commentaires)
The new version of the most complete simulation of Code Lyoko's supercomputer is back in a new trailer, with a release date!
Many additions and improvements have been made, the major features being : the return of the cryptosmasher, the satelite and power plant attacks, the television, the city map, the phone, the tower's inhibitors, the DNA functionnalities and the desert sector.





And what about the tv news, talking about a weird overload at local power station ? Between two news on Paco King of Disco and demonstrations in the streets, it's always interesting to get real news!
No voice right now, since it's a lot of work to right, translate and record, but it's planned to add some at some point.


Maybe you should locate your lyokowarriors phones?




Thanks to the voice.legend command, you'll have a clear vision of who can influence who, and take the voice of the desired person.


And to fix all that, you'll need to activate a tower and disable its inhibitors, that are also making their big return since 2.6.2 version!

To finish, the 4 windows relatives to the satellite are also coming back : if Xana wants to use a meteore against you, you'll have to search for how much time is left for you.




And at last, here's 2 quick forms where I've got questions for you about IFSCL and potential future projects, don't hesitate to answer them, it will help me a lot :
QUESTIONNAIRE IFSCL #1 & QUESTIONNAIRE IFSCL #2



Tou can take an eye on FB page , follow the creator twitter, or react on the forum (with french translations)

You can still get more detail you might be looking for on the progression log. Thanks for your ongoing support!

04/04

The findings of Dude Dudu - 2016 edition - Part 1/3
Posted by Dudu on 04/04/2016 at 16:52
(2 commentaires)

Time for a great comeback! It's probably been over a year since he left, disappearing into thin air. He hid in a corner and worked in secret for a triumphant return. Ladies and gentlemen, please welcome...Dude Dudu! *hysterical cries*...
There you have it.

It's done.

So now, we can get down to business.

Hello everyone. So yes, we're back, for real, finally...in reality, we didn't actually leave. The goal of this chronicle, for those who aren't aware, was to reveal documents, videos, music, etc. weekly during the time Code Lyoko Evolution was airing (more of less)...with the aim of going further into the series background and allowing fans to discover never-before-seen images of the original series almost 10 years after it aired. For those wanting to refresh their memories, here's a compilation of the best of 101 findings (most clips in French).
Nostalgic? That's just the tip of the iceberg. Since the end of the chronicles, I've continued to sift through the net looking for new documents and for the most part, it's been satisfying. And after gathering a certain number of findings, the distribution of gifts can now commence.
This chronicle will appear again a few times throughout the year (so as special events) with a multitude of more or less interesting new images. Here we go!
Storyboard of the episode Distant Memory
Here are storyboards of episode 82 Distant Memory, more precisely of the flashback scene of Anthea's kidnapping. If you look closely, these storyboards have particular significance. Indeed, in the creation of a series, the usual process is to first create the literary and graphic bible of the season, then its common thread which will then allow different writers to work on their episodes from the bible, to finally allow the storyboarders to create the storyboards for different episodes. The final goal being using these storyboards to create the episodes. As you surely know, the series has its own codes concerning the creation of flashback scenes: flackbacks are unique, for some are a series of specially-made, high-quality drawings with certain effects (travelling for example) added. So here are the storyboards in question.
As you can see, the original scene differs to the final one. We can wonder why: is it because of the explicit violence? Or maybe because it didn't match up with the literary bible? Or because of a planning problem (these flashback images, of high quality, weren't done by the same person as other images from the cartoon)? Is it XANA's fault? So many unanswered questions...mysteries still left wide open...(for now).
Did you miss them? New, old, here are some renders! Not a lot, of course, but some of them are very rare. So first off you'll find the renders of the Blok and the Hornet are in higher quality than the ones previously available, plus a new render of Aelita from season 1. And finally, a very rare one of Ulrich (it was only used in France when the TCG was available), it represents our Lyoko Warrior in the virtual world circa season 2 with a Super Sprint trail behind him, and its counterpart with Ulrich on his Overbike, in a way that lets you easily admire the devilish head on his outfit.
Un monde sans danger (A World Without Danger) clip, version 3
You know the Un monde sans danger clip from season 1! You certainly also know the Un monde sans danger clip from season 2! You don't know the Un monde sans danger season 3 clip? That's to be expected, it didn't exist; instead we had the Planet Net video. And season 4? No clip? You might've thought as such! It seems that an Un monde sans danger "season 4" version video does exist. Warning, I'm not talking about any fan-made one available on dozens of YouTube channels, but an official clip. Nothing "new" so to speak but nevertheless something new in and of itself.
Code Lyoko Evolution desktop backgrounds
Now that Code Lyoko Evolution is well and truly over and no new promotion has been released for the series, some sections of the site can now be finished, and this is the case for CLE desktop backgrounds. Just to remind you, these "desktop backgrounds" are promotional images (which are nothing more than screenshots) that Moonscoop made available to television channels, or press releases to illustrate the series.
And there you have it! That'll be all for this issue. The next one will appear later in the year. Let's take advantage of this news to signal that the team making the Code Lyoko social game have recently posted a message that bodes well:

"Dear players, We've met the direction of Ellipse Animation and they are interested to continue the exploitation of the game Code Lyoko. So, we want to know your wishes for the future in order to propose them a concrete updates plan. Thanks for your help." Go to the CLSG page to voice your opinion.
03/26

LyokoVN Editor - 5.0
Posted by Immu on 03/26/2016 at 00:14
(0 commentaires)
02/26

LyokoVN Editor - Version 3.5 'Sissi'
Posted by Immu on 02/26/2016 at 12:42
(2 commentaires)

The 3.5 version (codename 'sissi') of the Interactive Fanfiction Editor has been released! Enjoy!

Click on the picture to access to the download page :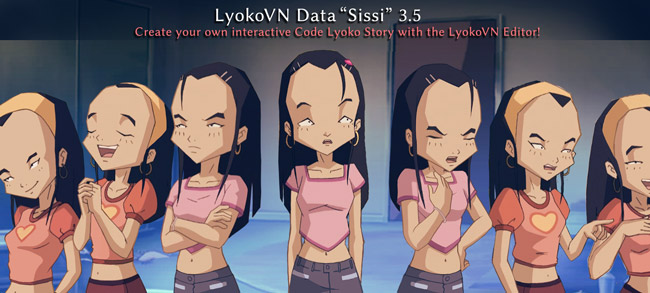 02/17

LyokoVN Editor - Create your interactive fanfiction!
Posted by Immu on 02/17/2016 at 11:14
(1 commentaires)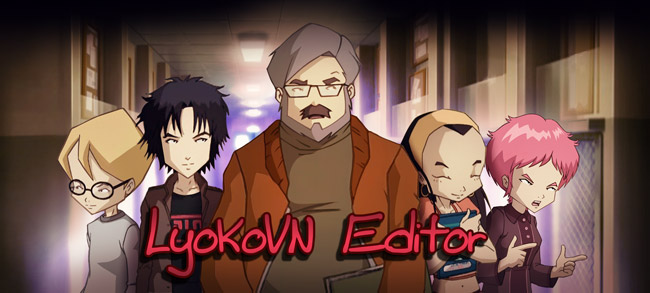 Already February ? We need something to inspire the community !

And guess what? Immu, creator of the IFSCL & the mysterious LyokoWanderer is offering you a new fan project, welcome to the LyokoVN Editor !
And it's already available !

The LyokoVN Editor main goal is to give to any LyokoFan the possibility to easily create its own interactive visual story, playable on pc and mobile alike!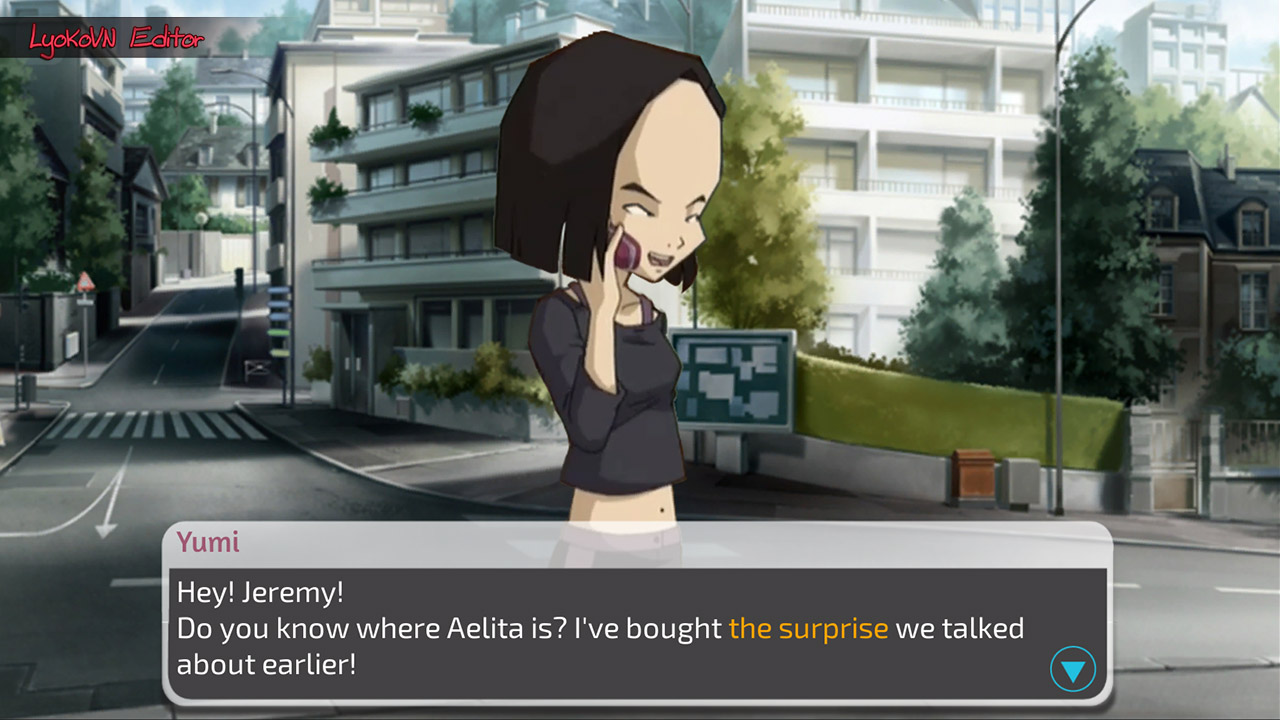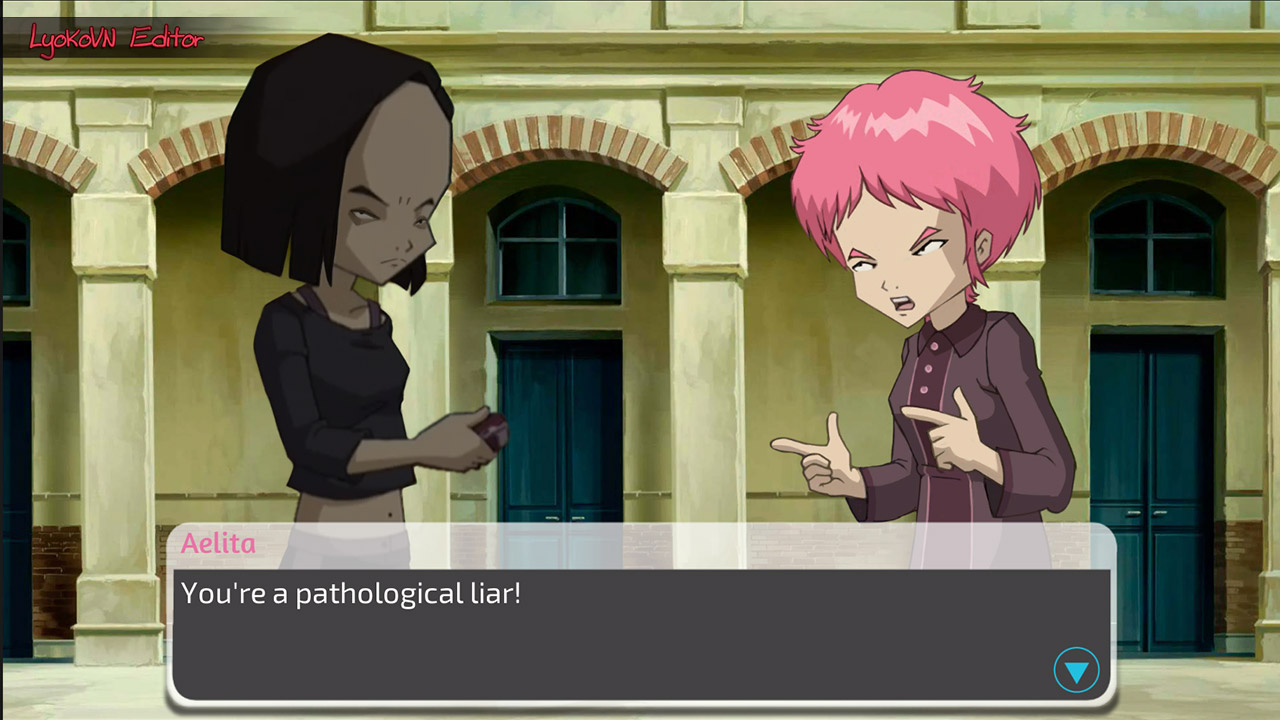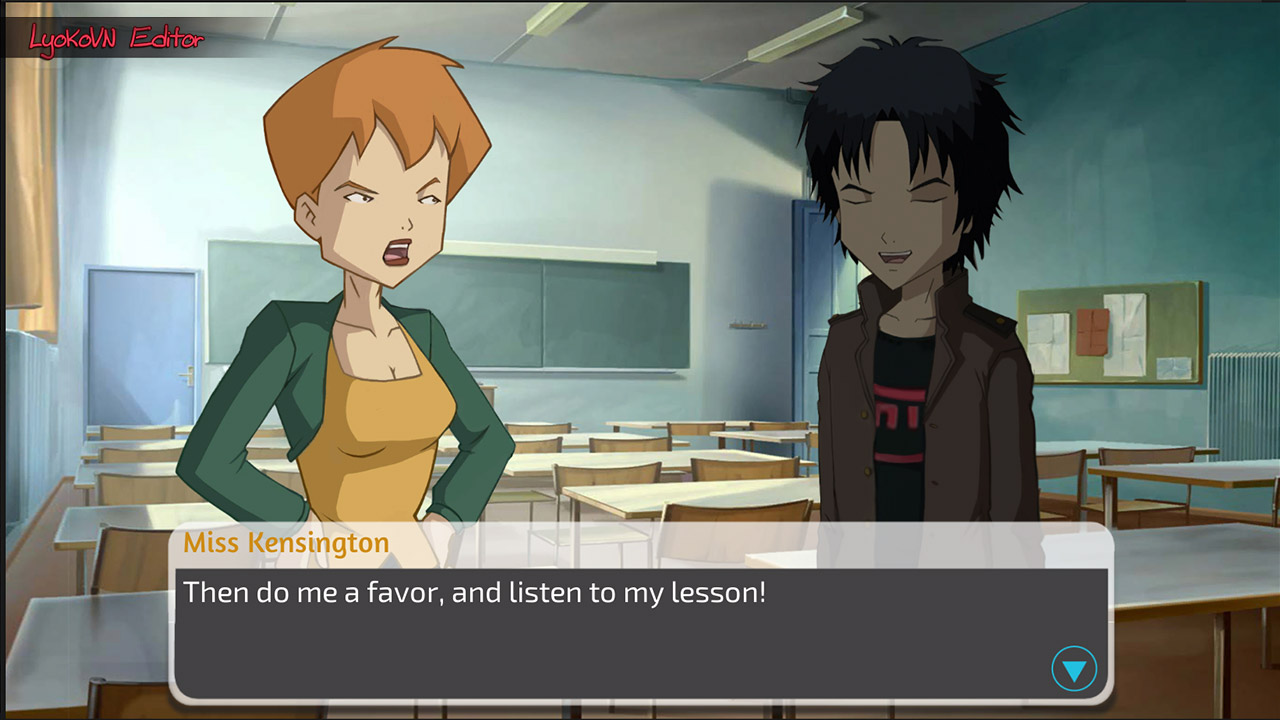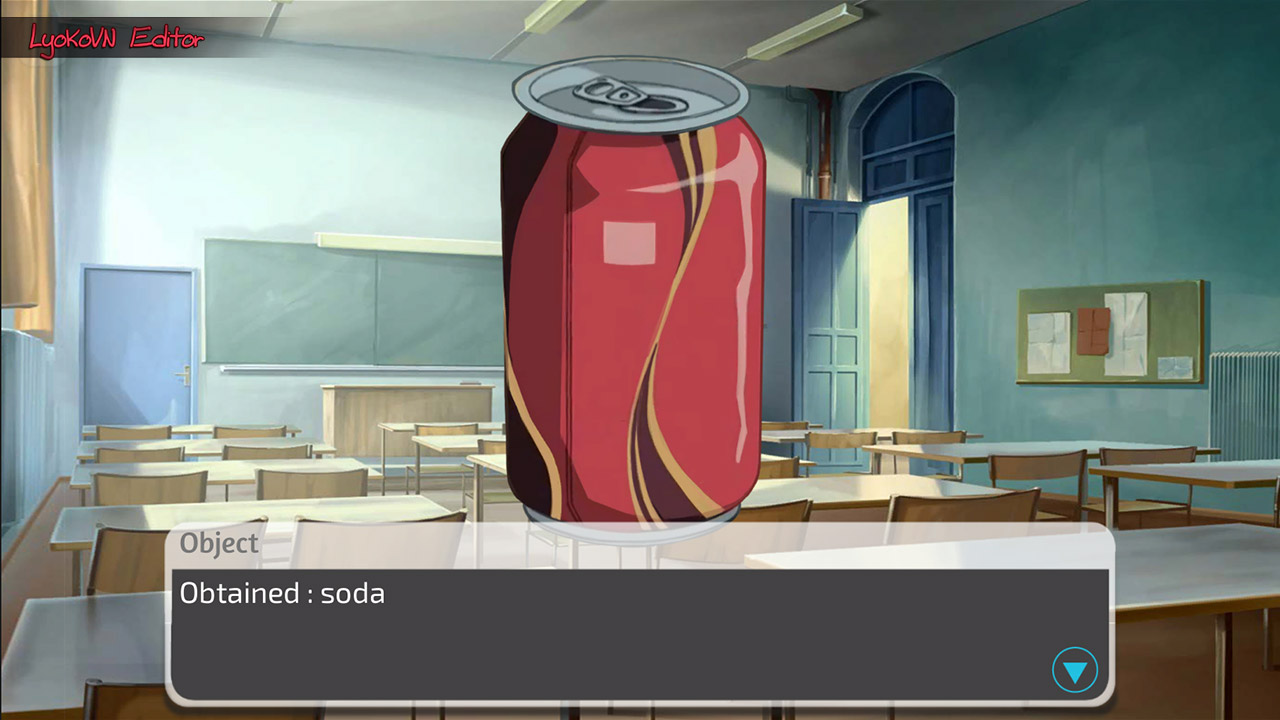 Short or long stories, linear or with multiple choices, with or without minigames, you decide!

The best ? You don't need skills in code or art! Everything is provided! You only need your best pen or fanfic/episode to adapt it to VN format !
The art assets are all carefully crafted from the original show, scaled up, repainted, to get the best galery of data availablet that will expand trough time!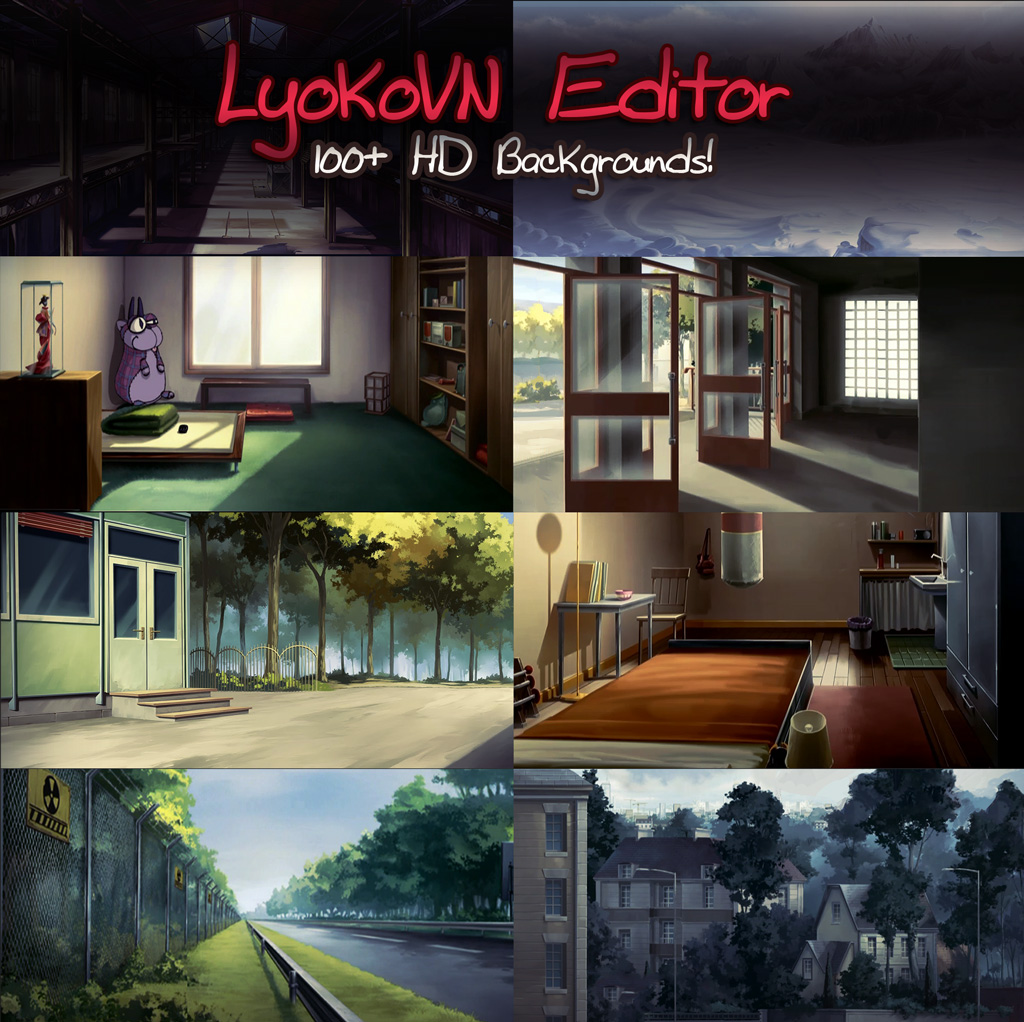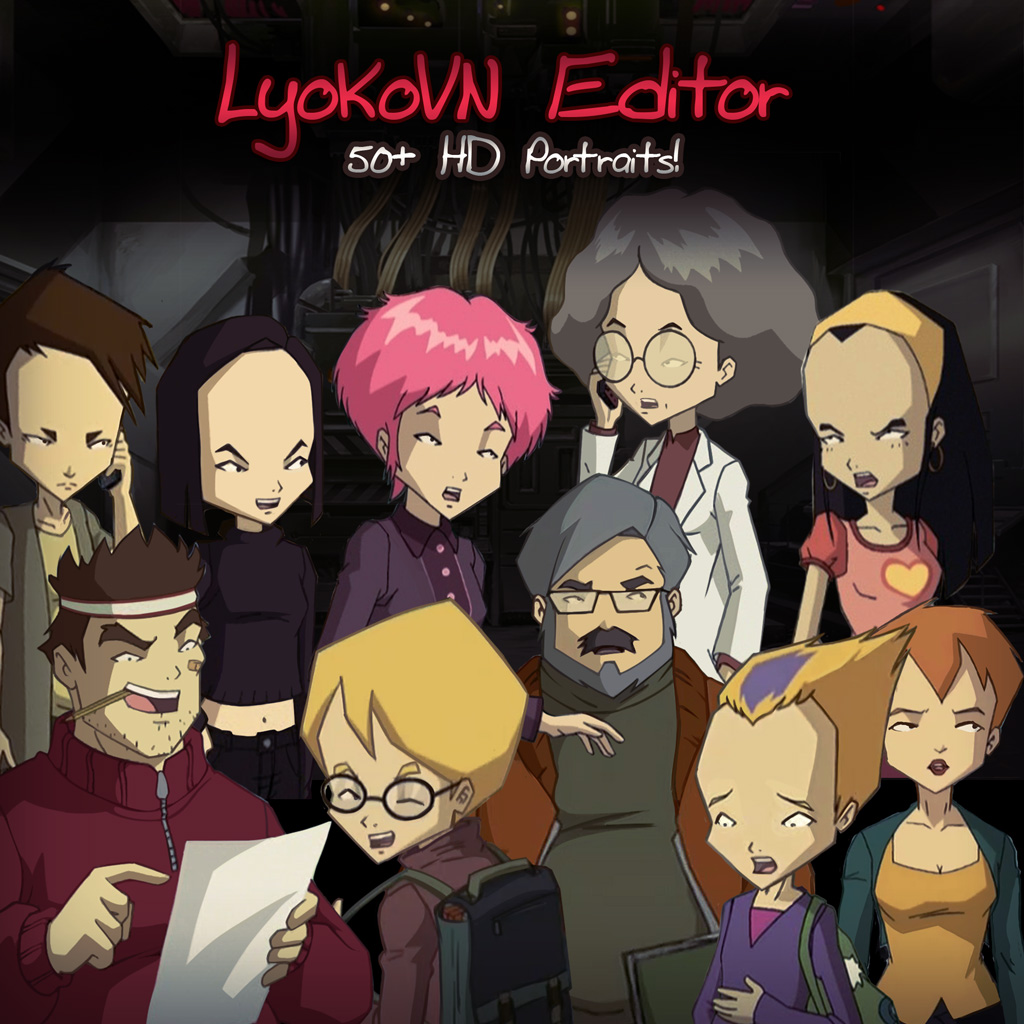 For the artists, or aspiring artsts, you can add your own characters & background, as well as your own musics or sounds!
Here's an example with a screenshot from the show, turned into a HD version that you are able to use in game :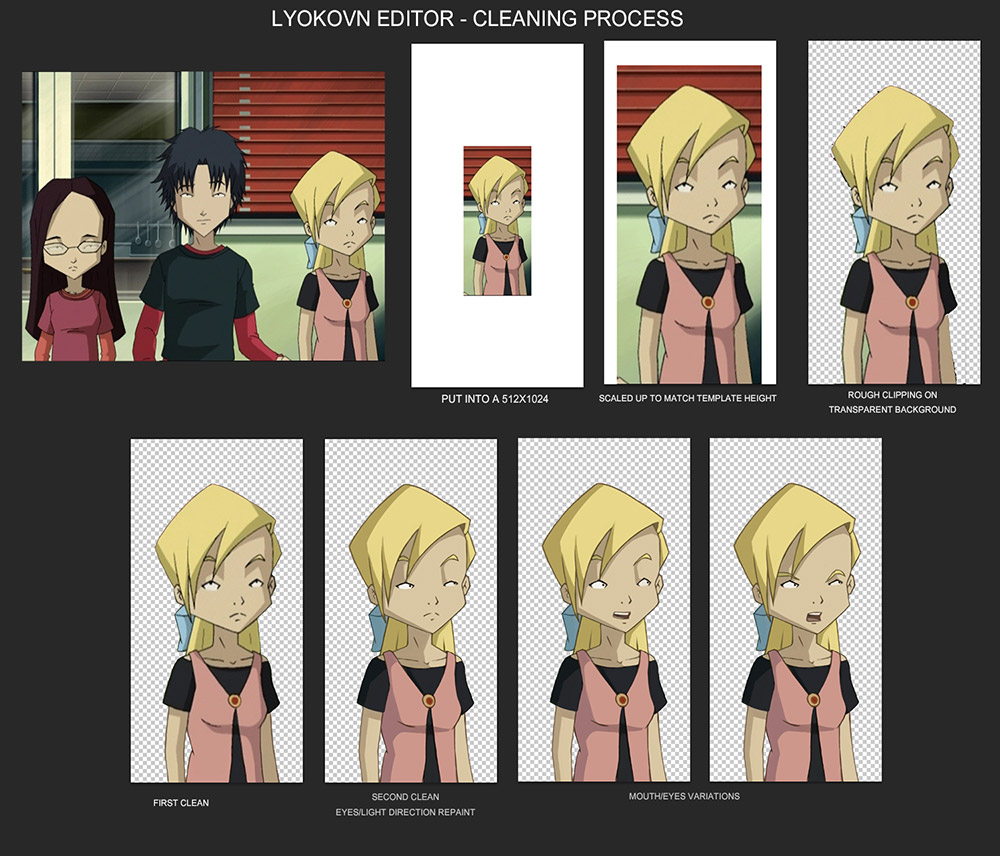 You only need to take a few hours to familiarize yourself with all the tools at your disposal. You also get an example project, regularly updated.

You can also access to cool documentations & livestreams, more detailled and shorter tutorials are also planned in the future.
The content will be regularly updated, between 2 weeks & 3 months are estimated to see a new versions with their new functionalities (save system, translations, tutorials, new portraits and arts...)
A central 'Hub' is also planned in order to regroup all the VN that the community might want to create.
Enjoy!

>>>> Official page of the fanproject <<<<

>>> Page Sociale <<<

Questions ?
>>>> Topic on the english Forum <<<<


01/16

IFSCL 3.1.3.c & onwards!
Posted by Immu on 01/16/2016 at 12:06
(0 commentaires)

The Code Lyoko Interface get a 3.1.3.c version !
It's more or less a tradition now, even if it's undergoing development version released. I prefer to have version with has less bugs as possibles. So here's a ".c" version which replaces the original 3.1.3 version.
<--- You can find it on the download page, it has replaced the 3.1.3 version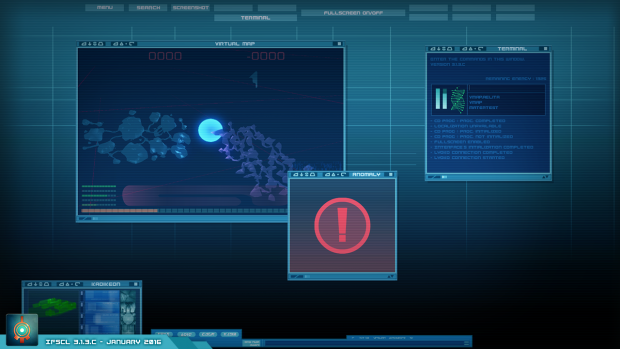 Future plans...

The next version (so, not the 3.1.3.c) might be released after the 6th anniversary of the IFSCL, which would be after the 13th of April, 2016. So the release might be in April or May. (consult the progression log for more info)
A lot of content is planned, notably the two missing surface sectors : forest &/or desert.
This would also be the occasion to discover the evolution of programs you knew in 2.6.2, like the return of the phone which has been reworked a lot lately. Technically speaking the goal is to really have the lyokowarriors moving in "real world distance" from a point A to a point B, a big work is made on that, linked to the revamp of the 'real city map'.

Finally, it's the crypto-smasher which will reappear, maybe in a more interactive version that previously, but it's still under study

Next are all the windows linked to meteorites and military satellite which should return, remade.

The ideal for me would be to get all that content (3.2.3) ready for the anniversary. Plus maybe merging it with the 3.2.6 content (which means many programs of Hopper appeared in seasons 1-2-3, but I'll certainly have not such time.
Anyway, thanks for reading!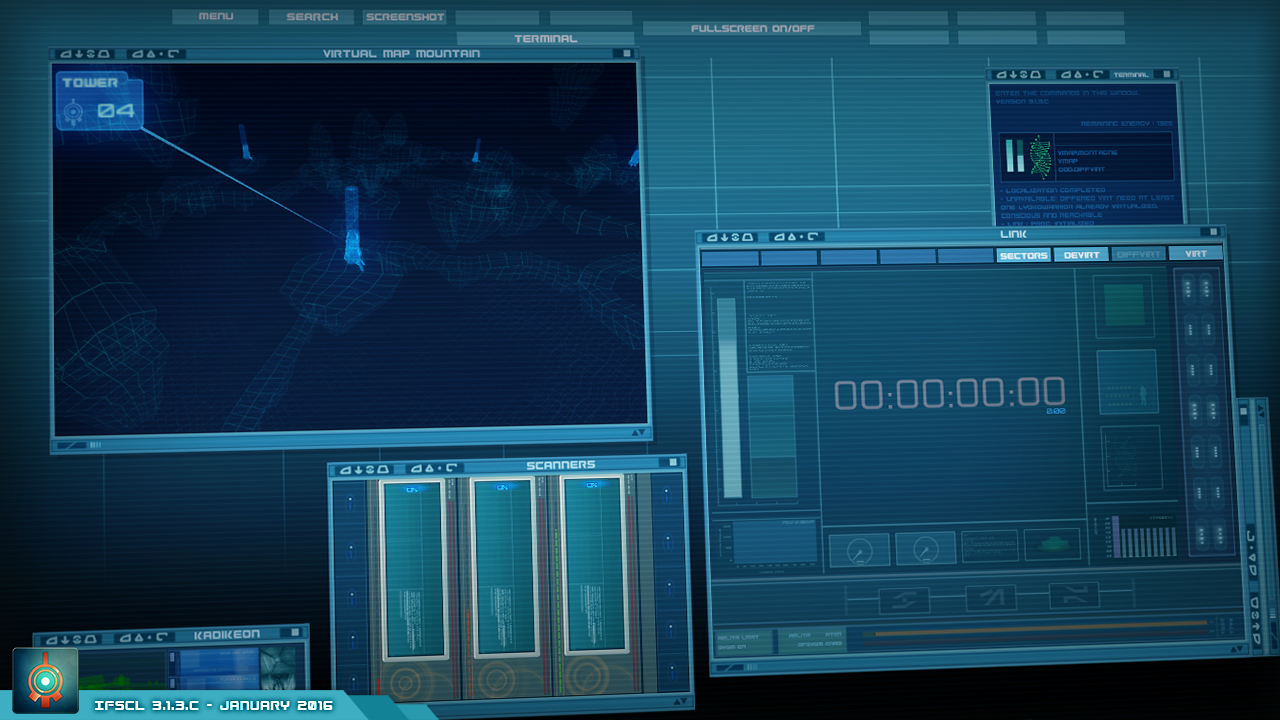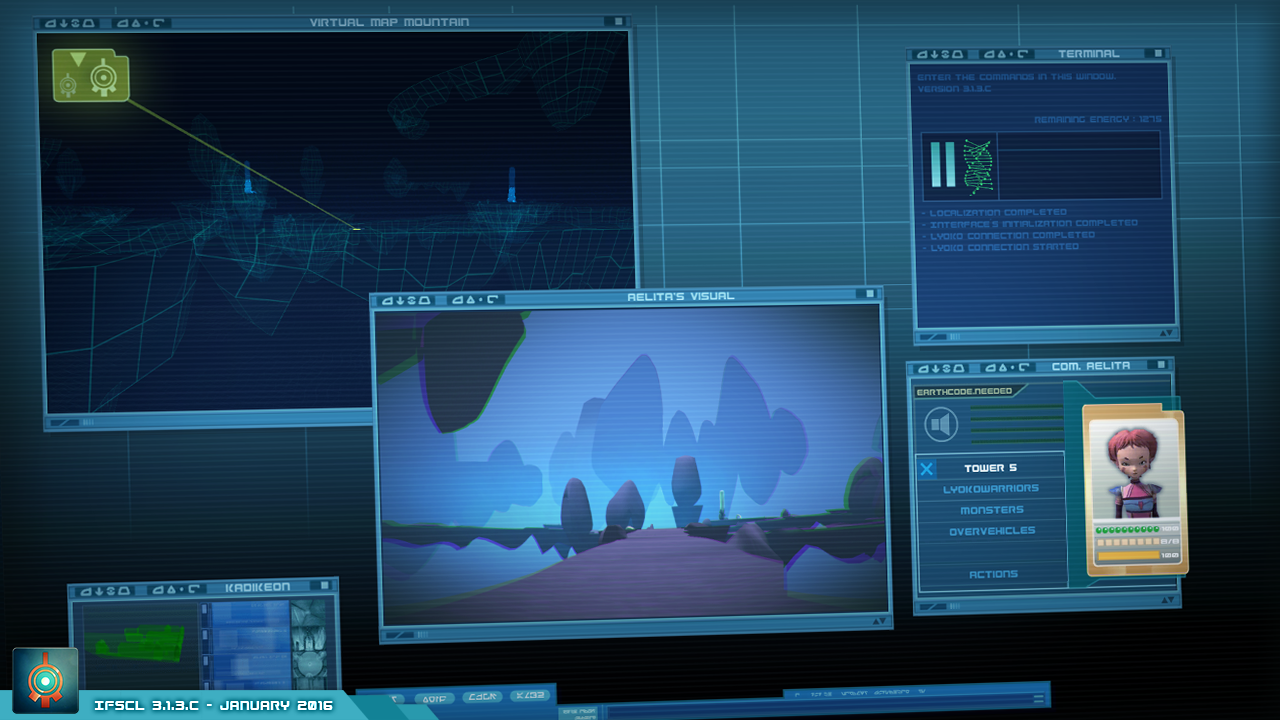 Get all the details live on progression log.
Tou can take an eye on FB page , follow the creator twitter, or
react on the forum (with french translations)

Meanwhile, an orange rttp is ticking...