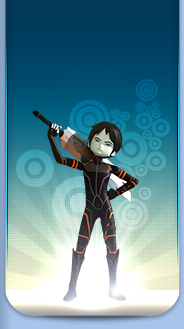 Code Lyoko Hardline
"

No more Season 5 reboots. We need something fresh and something that hits hard and never holds back. HARDLINE is that something.

" -Kevin Price
This is Code Lyoko: Hardline, a brand new fan project by the brand new international studio, Team Hardline Studios! With over 30 devoted members, artists, developers, and voice actors, Code Lyoko: Hardline is the LARGEST fan project to date. This ambitious project is still in its development phase and has been for an entire year. You may be expecting another Season 5 reboot, but, with Hardline, we're giving you a Season 6... and this is no ordinary Season 6. Code Lyoko: Hardline is a Crime Drama/Action Thriller inspired by the popular videogame Battlefield: Hardline.

[SETTING] [STORY] [CHARACTERS] [CAST] [ART] [EPISODES AND WRITING] [SOUND DESIGN & MUSIC] [SUMMARY] [NETWORK]
CONCEPT ART
Miami at day


Code Lyoko: Hardline takes the series we all know and love to new heights, moving away from the Factory, Kadic Junior High and Paris and dropping us into the United States in a brand new setting. Inspired by popular cop shows and movies, Hardline shifts Code Lyoko into unfamiliar territory. The show drops viewers and fans onto the mean streets of Miami, where crime never sleeps and neither does the law. For a fan project, this setting is new and fresh, allowing people to experience an Action Thriller/Crime Drama like never before. Bank robberies, drug busts, hostage situations, betrayals, shootouts, high speed chases, and more will blow you away in the most explosive, dramatic, and intense fan project.
Code Lyoko: Hardline brings a new story along with the amazing and breathtaking new setting. In Hardline, which takes place 12 years after Evolution, Yumi and Ulrich tie the knot and move to Miami, Florida to start a new life, leaving behind the Factory and all of the danger that came with it. However, old habits die hard when Yumi joins the Miami Police Department after giving birth to her son, Kevin. After years in the force, she finally makes Detective and begins her first major case and finds herself in the midst of the largest drug war in the Southeastern United States. Elixir, a dangerous and deadly new street drug, is finding its way across the city, attracting gangs and organized crime. As the violence begins to spread, Yumi must help bring down the Specter, the mysterious drug lord whose ruling the streets and running the drugs.

As Yumi and her partners begin to uncover the truth, she finds herself betrayed and lands in prison for the crimes of another. With no choice, she embarks on a cross-country quest for redemption and revenge. And even this quest hides many dark secrets.

That's not the only story, however. There are three different story arcs, all of them taking place at the same time. The first story arc follows Yumi. The second story arc follows FBI and the MPD and the ongoing investigation into the Yumi Stern case. However, the third story arc is a surprise that'll blow you away!

That's not the only feature in Hardline. Like a real TV Crime Drama, Hardline offers a lot of drama, suspense, action, intrigue, cliffhangers and more. Even brief little summaries before the real episode starts begin. Previously ons and Next time ons are included, bringing to life this TV Crime Drama/Action Thriller. This is a project like no other and will leave you breathless.





Code Lyoko: Hardline features character you all know and love and new and intriguing characters that you'll either hate or love! CL characters like Yumi, Ulrich, Jeremy, Milly, Tameia, Sissi, Jim, Patrick and others make their return. However, new characters step up to the plate like the white-knuckled Miami Police Chief Mitchell Marlowe, the upbeat and sharp Detective Dennis Morrow, the young beautiful and skillful British criminal Melody Sawyer, the colorful and radical ex-Las Vegas mayor Austin Tanner, and much more. These characters are authentic and true to the setting, also bringing to life our favorite CL characters. They're more mature and more realistic, allowing fans to delve deeper into our crime-filled world while also portraying them realistically without making them too different. SWAT team members, drug dealers, Cartel members, gang bangers, crooked cops, bank robbers, shady politicians, colorful corporate owners and others are just a few types of characters there are in Hardline.
Hardline's characters cannot be brought to life without a voice cast! Our project is fully voiced with experienced and new voice actors and actresses! These actors bring the characters to life and fully devote themselves to their characters. From experienced amateur voice actors to newcomers, Code Lyoko: Hardline features a diverse cast of voices who fit the persona of their characters accurately!

Hardline features a unique blend of different art styles. The show keeps the art style we come to know and love in Code Lyoko, but, we mix it up a bit with realistic lighting effects and extra detail. Lens flares, shadows, and other effects allow the world to come alive, accompanied by color hues for different locations to add character to each location. For example, Miami's color hue could be a bright orange to differentiate it from Los Angeles, which could have an orange-red hue. The Mojave Desert could have a brown-yellow hue and etc. Each location has a unique personality.

The level of detail is not as realistic as other art styles, but, it still brings the world to life. Wrinkles in clothing, bullet holes, scratches on vehicles, dirty tires, weapon damage, and others are just a few of the major details in Hardline's style that bring it to life. It's refreshing and breathtaking to notice the details in the world.
Like all shows, Hardline goes through an extensive writing and development process. The draft is written first, including dialogue and scene details and then edits are made as the script finishes. Sometimes, editing occurs during the writing of the script to ensure that development finishes. However, we write the episodes one at a time to focus the team instead of working on all of them at the same time.

Each episode's length varies. Episodes will range from 20-30 minutes. All episodes are presented in a TV Crime Drama-style format. The show is not fully animated and uses a unique stylistic approach to make it different from the rest of the fan projects. All of the sound effects, music and lighting effects happen in real time, but, the visuals do not and resemble a motion-comic seen on the internet. However, it is not in a comic book format.
Sounds in Code Lyoko: Hardline are realistic and immersive! Gunshots, car engines, helicopter blades, explosions, punches, impacts, crashes, sirens, bullet casings, and more sound like what they should in real life. These sound effects are taken from the real world or from realistic recording sessions and integrate them into the show itself, bringing the world of Hardline to life!

The music itself mainly consists of the Battlefield: Hardline Official Soundtrack written and composed by Paul Leonard-Morgan, who is also known for his work on films like Dredd and Limitless. However, in some segments, the show features a soundtrack written and composed by Kevin Price. The soundtrack utilizes a unique mix of rock, electronic and hip-hop.

Code Lyoko: Hardline is the most ambitious CL fan project to date! Unlike Code Lyoko: Relight and Projet Lyoko 5, Hardline is bringing a fresh new approach to CL. Our team is bringing you a compelling tale full of action, excitement, intrigue, drama, and suspense. We are bringing Code Lyoko into a new era and bringing it to a gritty and realistic world. This is no ordinary fan project.

This... is... Code Lyoko: Hardline!




Rated MA:
Intense Sequences of Action Violence
Blood
Strong Language
Use of Drugs/Alcohol