The official Code Lyoko trading card game, published by France Cartes, was released in 2006. They're currently out of circulation and aren't being printed anymore. You can find them second-hand or sometimes brand new from particular stores if you're lucky and they still have stock (decks or booster packs).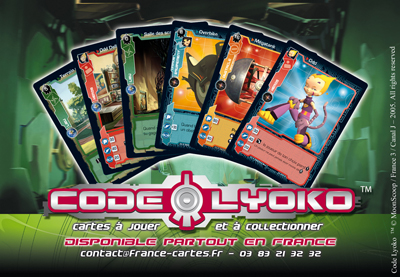 There were two packs available: "Alerte sur Lyoko" ("Alert on Lyoko" - red) and "Le secret est en danger" ("The Secret is in Danger" - blue). They each contained a starter deck of 55 cards (5 hero, 50 normal), a 12-card booster pack (includes 2 rares) and a metal card case!
Starter deck price: €13.99
There are 170 cards in total to collect, divided into 8 types (Hero, Extra, Equipment, Location, Action, Event, Obstacle, Danger and Surprise). The cards are numbered from 1 to 165, but this doesn't include the 5 double-sided hero cards.
There's a 166th "special issue" card that was available in 3-card booster packs (sold with Code Lyoko 2.0 magazine issue 1...way back when!).
Also, before the official release of the card game, P'tit Louis (a French company that makes cheese products) had the privilege of releasing 20 preview cards. These cards are numbered 1 to 20. 19 of them are reused in the standard game with different numbering. The P'tit Louis version of some of them also have different images or effects.
But the 20th card was exclusive to P'tit Louis!
To summarise, the most avid collector has 186 different cards to collect! Or you could even call it 212 when you account for all the variants of certain cards - they'll have the same name and effect but a different image.
(This may seem trivial to you but I promise that in the merciless underground world of collectors, these details are paramount!)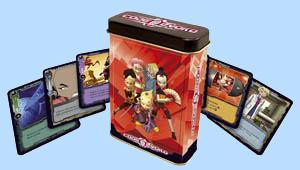 Summary of the rules:
Code Lyoko is played with 2 or more players. The goal is to help Jeremy, Aelita, Odd, Yumi and Ulrich defeat X.A.N.A. You need your own deck with at least 50 cards. The 5 heroes
(double-sided cards)
are placed in the centre of the table and are used by all players.
The cards in your deck represent the actions your heroes can take or equipment they can use, locations from the series, immediate events or obstacles for the other players. At the start of the game, you draw 5 cards. You start with 0 victory points (VP). On your turn, you have two hits you can use to use a hero, draw or play a card. To play a card, you need to look at the number on the top left (VP).
If you have enough VP, you can play it (this doesn't cost VP). You must be the first to reach 20 VP. You can then do a "return to the past" with Jeremy and win the game...well, so long as X.A.N.A. doesn't stop you!
Click here to read the complete rules! (in French)