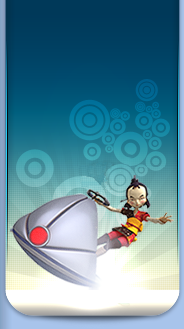 Code Lyoko Strategy Game

Turn on the Supercomputer and plunge into the adventure! Place and play as your Lyoko Warriors to get Aelita to the activated tower or fight monsters sent by ZANA, the clone of XANA made by the AI when the Supercomputer was shut down. Crush your enemies or use a trick to distract them, it's up to you to decide!

Have fun exploring the story mode, proposing an alternative scenario to Code Lyoko Evolution. Or create your own parties with the free play mode. In this made, you can even control ZANA's forces! Finally, you can play against your friends on the same computer. Choose your team, and may the best man win!



How to play this game
Firstly go to this page. Then download the version you want. In the file name, the higher the number, the more recent the version. Test the beta version (this one ends in "b") to have a look at the evolution of the game! If you can't open the ZIP files, you can download Winzip or Izarc (free). Then, simply launch the executable code .

This game is subject to future updates, whether to add episodes or to make it better. Don't hesitate to leave constructive comments, suggestions and any bug reports on the dedicated forum topic (in French).