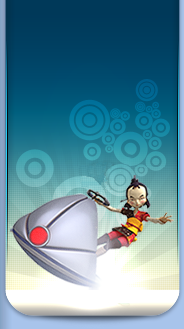 Projet Lyoko 5
ABANDONED PROJECT

Project Lyoko 5


"Together, we will create a season 5 that appeals to you!"



"Project Lyoko 5" or "PL5" is a small group of people, who met several years after the end of season 4 of "Code Lyoko," with the aim of creating a season 5 of the series, responding to the questions left open by the end of season 4.
Having been disappointed by not seeing a season 5 arrive, h1037_ decided to create a season 5 using his own means. For this, he asked for help on the CodeLyoko.Fr forum. Other Lyokofans, them too wishing for a season 5 of Code Lyoko, joined him to help with his project.
CLE arrived, some people were satisfied, others not.
The others, that is, among the others, are the members of Project Lyoko 5.
It's for that reason that the project is still here, searching to bring you the responses to the questions unanswered by the brisk ending of season 4, and allow you to rediscover the joy of Code Lyoko episodes.
Café Noir

Editor in chief of the Online Mag', he's also the musician for Project Lyoko 5.




Fear Effect Inferno

Manuel, 16 years old, speaks French and Spanish, draws, composes and takes care of the design of the PL5 website.




HL037_

...or Léo for close friends.
Actually a student in his third year of a computer engineering degree, he's the founder of the project. He's also one of the 3D modellers and Blender instructors. He's notable in charge of the visual effects using the compositor (post-processing, in other words after the image calculations) such as lasers.
He's also responsible for communication.




Julien Dupont

Also known as "le vieux" ("the old man") in reality Cédric, or even Christian, a man of 35 years, is the dean of the project, screenwriter and 2D/3D graphic artist.




Lénaelle

Leslie Warden, 18 years, manager of PL5. Responsible for the production and a designer. More commonly known by the name Léanelle, she rules her team with an iron fist while adding a touch of madness to PL5.




Light 45-17

Founder and "kronicler" of the webradio "RORKAL" he takes care of the post-production.




MacCamintosh


(previously Odd_Della_60)



Camille, 21 years old. Co-founder of Project Lyoko 5, managing internal communication and the Twitter account. He also takes care of different tasks, large or small, in different areas, for example: the editing of the Japan Expo 2013 video.




Roro-Xana

Roman is a screenwriter and musician. He's also the principal editor of the pilot script of PL5.




Zoddo

Nicknamed Yohan, aged 15 and being of French nationality, his chosen field, computing (web coding) makes him the perfect project manager for the site.
Our site: projetlyoko5.fr (in French)
Our mail: contact@projetlyoko5.fr
Our Twitter: (@Projet_Lyoko) (in French)
Our Youtube channel: (LeProjetLyoko5)
You can also follow us on CodeLyoko.Fr's forum (in French)
You can also take a look here, where you can find other topics concerning Project Lyoko 5, as well as other fanprojects.

And of course, on our partner site: CodeLyoko.Fr! Exclusive news will arrive there!