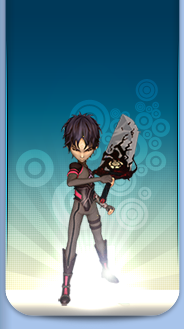 Milly Solovieff and Tamiya Diop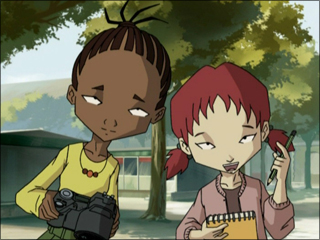 "How long were you planning to shoot this door?"




"It's interesting to know how long the really good students use the bathroom, right?"

#65 Final Round





Name:


Milly Solovieff
Tamiya Diop



School:

Boarders
We only know that they're in year 6 and that they run the school newspaper: "The Kadic News".



Other:



The two journalists are always with their camera and polaroid. They're obsessed with scoops and gossip! Their journal, the Kadic News, is the only one at the school and talks about this and that, but never anything serious.

Also, Hiroki Ishiyama is in love with Milly.




"My dear Milly, your paper doesn't have any readers!"

#40 Attack of the Zombies


Milly and Tamiya often appear when we least expect them, taking a photo of a scoop or eagerly filming (episode 42 "A Fine Mess"). They can have a good laugh, but can also be nosy (in episode 65 "Final Round", they hold Jeremy back for a long time).

Both the poor schoolgirls are often subjected to Sissi's malice, who ridicules them for her own personal pleasure (episode 1 "Teddygozilla").

We have to note that the series opens through them, or at least, through the screen of their camera! As journalists, they're often the ones who announce what will happen in an episode (episode 50 "Contact"). Being good reporters, they often commentate Kadic's biggest events, like soccer matches (episode 21 "Zero Gravity Zone") or robotics competitions (episode 20 "The Robots").

They sometimes bear witness to XANA's attacks, but like most other characters, they are powerless against them (episodes 40 "Attack of the Zombies" and 86 "Canine Conundrum").

I conclude by remarking that even though they are just secondary characters, Milly and Tamiya are an essential component of Kadic Academy. They sometimes intervene in the heroes' fight. On one occasion they find the factory, in episode 81 "A Lack of Goodwill", accompanied by William's clone. Frightened, they witness the confrontation between the real William and his double. Feeling courageous, they try to interfere...with little success, of course. At the end of the fight, they interview the loco Warriors... They believe to have found the scoop of the century until a return in time.

They get in the heroes' way in episode 89 "Music to Soothe the Savage Beast", victims of Xanafication. Once again, a Return to the Past erases their memories.
"At least you don't care how old I am, do you? We understand each other. We're not like those dumb older kids who always want to run things...they think because we're young we don't count at all. If for once, we were older...a lot older than them...they wouldn't laugh at us, would they?"



#01 Teddygozilla

Very passionate girls, Milly and Tamiya only have one centre of interest: their newspaper! They spend their breaks between classes looking for scoops and nothing can stop them; they think of themselves as true professionals, even talking about freedom of the press!

They are also shy in some respects, especially Milly, who finds Ulrich handsome... Nevertheless, when they're after a scoop, nothing can stop them! Photos, introductions in classrooms (episode 10 "The Girl of the Dreams", interviews; their journalistic eloquence is without equal throughout the whole school!

They get along well with each other and share a great complicity which, however, is stretched in episode 65 "Final Round", in which they spend a long time quarrelling about each other's role in the paper. But after Sissi takes advantage of this to take control of the newspaper, they found a common enemy and reconciled.
"So, what's the latest in the world of Kadic Junior High?"

"'Is Judith Nevers going out with Ronaud Limousin?'"




"Who are Judith Nevers and Ronaud Limousin?"




"How should I know? Anyway, it seems they are going out."

#59 The Secret




#1 Teddygozilla
#5 Big Bug
#9 Satellite
#10 The Girl of the Dreams
#13 Just in Time
#16 Claustrophobia
#17 Amnesia
#20 The Robots
#21 Zero Gravity zone
#26 False Start
#27 New Order
#28 Unchartered Territory
#33 Final Mix
#40 Attack of the Zombies
#42 A Fine Mess
#45 Cold War
#50 Contact
#52 The Key
#65 Final Round
#66 William Returns
#77 Lost at Sea
#78 Lab Rat
#81 A Lack of Goodwill
#85 Kadic Bombshell
#86 Canine Conundrum
#89 Music to Soothe the Savage Beast
#92 Cold Sweat
#93 Down to Earth
#94 Fight to the Finish