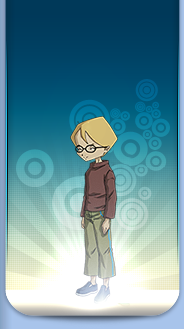 Nicolas Poliakoff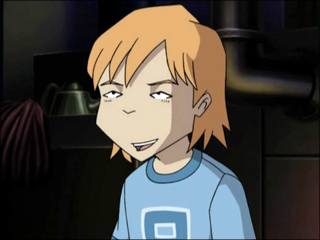 "Poliakoff! Zero. A kilogram of mercury goes not weigh a tonne!"



#62 Nobody in Particular




Name:

Nicolas Poliakoff



Age at the start of the series:

13



School:

Boarder
Nicolas is in year nine, in the same class as Jeremy Belpois, Ulrich Stern, Odd Della Robbia, Aelita Stones, as well as his friends: Sissi Delmas et Herb Pichon.
He is the most feeble-minded student in the class and it is a miracle that he makes it into year 10. When Ms Hertz marks his papers, he often gets a red line in the shape of an egg.




"He sure is no match for my looks or my brains!"

#35 The Chips Are Down


Nicolas is the punching-bag of Sissi's gang, the one she and Herb take it out on when they are irritated. Our heroes do not pay much attention to this because of his limited intelligence. His giggles and his stupid voice make him a quite comical character.

Appearing in the prequel episodes, Nicolas accompanies Herb in his quest of getting close to Sissi, their idol. They even found a fan club, "Friends of Sissi", that gathered together...well, only two members, actually: Herb and Nicolas.
Obedient, Nicolas puts up with almost anything without worrying or complaining about anything.
In episode 2 "Seeing is Believing", we have the opportunity to see another side of Nicolas: he plays drums like a pro. At first, he was shy because of Odd's jokes, but soon his passion for music takes over and thanks to that, he enters the rock band that Yumi, Odd and Ulrich have created.

During episode 26 "False Start", when he sees Aelita for the first time, Nicolas seems to appreciate the young girl's charm and he certainly doesn't complain in episode 43 "XANA's Kiss" when Aelita (actually, a polymorphic clone sent by XANA) kisses him before Jeremy's eyes.

Nicolas is keen on sports and watches it on TV.

In episode 35 "The Chips Are Down", he becomes a frightening opponent for our heroes when XANA takes control of him. This is the only episode in which Nicolas manifests any kind of interest for the conflict against XANA.




"I sure hope he's better at kissing than he is at math!"



#43 XANA's Kiss

Nicolas has a dull face and does not appear to use his brain very much. The brawn-over-brains type. Following Sissi as if he were her shadow, he and Herb are a duo: he is the muscles, Herb is the brain. They could become an awesome duo if they were make use of their complementarity, but the two are Sissi's "fans" and they just follow her anywhere she goes, doing anything she wants. The most unequivocal example is in episode 30 "A Great Day", when Sissi, under XANA's power, orders her two lackeys to lock Jeremy in the school's boiler room, which they execute obediently without asking questions.
"Sheep" is the most appropriate term to describe Nicolas' behaviour, since his personality is pretty much as bright as his peer Herb. Well, a sheep that can turn into a wolf as soon as he needs to use his fists. He does not put much more thought about hitting someone than into doing addition.

Nicolas, however, has another passion: fishing in the moonlight, which he calls a "fantastic and breathtaking experience in the moonlight". He asks a lot of people out but in the end, once again, it is with his peer Herb that he finally spends this moment.
As luck would have it, their fishing session is not far away from the factory, in such a way that they see Odd and Aelita who are heading for the Supercomputer. Determined to discover what is going on, he enters the factory and Jeremy has to distract him from discovering the Supercomputer...and when they come back from their mission, to avoid returning to the past, Odd and Aelita fake a kiss, in order to bring to a conclusion the investigation of those troublesome witnesses.
"I-I would, but I can't find Nicolas either! He ran off like a madman after class to follow Jeremie, Odd and the new girl! He was really spaced out...his voice sounded weird, and there was something strange about his eyes..."

#35 The Chips Are Down




#00 XANA Awakens (parts 1&2)
#1 Teddygozilla
#3 Holiday in the Fog
#5 Big Bug
#8 End of Take
#9 Satellite
#12 Swarming Attack
#14 The Trap
#15 Laughing Fit
#16 Claustrophobia
#17 Amnesia
#18 Killer Music
#19 Frontier
#20 The Robots
#21 Zero Gravity Zone
#22 Routine
#24 Ghost Channel
#25 Code Earth
#26 False Start
#27 New Order
#28 Unchartered Territory
#30 A Great Day
#31 Mister Pück
#33 Final Mix
#39 A Bad Turn
#35 The Chips Are Down
#40 Attack of the Zombies
#41 Ultimatum
#43 XANA's Kiss
#44 Vertigo
#45 Cold War
#46 Déjà Vu
#48 Is Anybody Out There?
#50 Contact
#52 The Key
#53 Straight to Heart
#54 Lyoko Minus One
#55 False Lead
#57 Aelita
#58 The Pretender
#60 Temporary Insanity
#62 Nobody in Particular
#63 Triple Trouble
#64 Double Trouble
#66 William Returns
#67 Double Take
#68 Opening Act
#69 Wreck Room
#71 Maiden Voyage
#73 Replika
#76 The Lake
#79 Bragging Rights
#83 Hard Luck
#85 Kadic Bombshell
#88 Cousins Once Removed
#91 Bad Connection
#92 Cold Sweat
#95 Echoes