Hello all!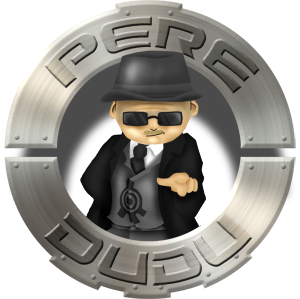 Today, here's a compilation of all the cutscenes from the game Code Lyoko: Quest for Infinity in French and English, all in a ZIP folder. To play the videos after unzipping the file, you need to launch the videos in VLC; they are in .flv format if they have no dialogue, and in .mkv for if they do have dialogue. To change the audio from French to English and back again, you just have to click on "Audio" and choose the language track you desire. And yes, some videos can't have a French audio track, it's rare, but it can happen.
Some things are out of the ordinary in these videos:
- firstly, the videos VIDEO INGAME VOLKANOIDE INTRO and DEATH, which both possess a third "intermediate" audio track, in French, which has the French dialogue but doesn't include the sound effects such as footsteps or monsters devirtualising.
- and also the video VIDEO ADV GO USINE PAL which, in fact...should simply never have been created. Indeed, initially, the game should have shown more cutscenes, but due to time restraints or suchlike, none of these cutscenes could have been created. In the end, what's left of these cutscenes is just their title and
this video
, which appears in each of them and mentions that these videos are a "Work In Progress"...
Here's an non-exhaustive list of the titles of these videos, which would never come to pass:
-VIDEO ADV GO USINE (usine = factory)
-VIDEO BASE XANA EXPLOSION BAN (ban = banquise = ice)
-VIDEO BASE XANA EXPLOSION DES
-VIDEO BASE XANA EXPLOSION FOR
-VIDEO BASE XANA EXPLOSION MON
-VIDEO BASE XANA EXPLOSION VOL
-VIDEO END
-VIDEO ERASE REPLIKA FORET
-VIDEO ERASE REPLIKA VOLCAN
-VIDEO JEREMY TALK ATTACK
-VIDEO SAVE WILLIAM
-VIDEO SKID ENTER DESERT
-ADV01 VIDEO SITCOM1
Have a nice afternoon everyone on codelyoko.fr