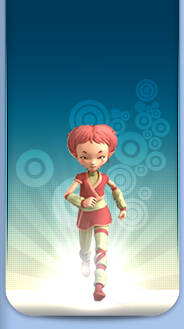 Become a LyokoFan
On this page, it's not just the series, but the LyokoFan community that you're going to discover! A journey that's worth a good detour! IRL meetups, creators of genius, mutual help and support, debate and discussion areas... You've arrived in a very unique community!
Welcome to our site! We could have started the tour there, but that would have been a bit pretentious to those just passing through. If you want to know more about our site, here are a few primary elements.

Know first of all that we are not the official website. However, we are the most complete, the most up-to-date and the most active website on the Code Lyoko series. We need not envy the official site, as we are in contact with the series producers and receive much information before anyone else.

To know more about our site, click on the "Website presentation" button under the The Website tab. You can also discover our partners on the LyokoNetwork page.
Now we come to registering with the site. It's done in a few steps. Everything starts with registration. Once the procedure is complete, you can log in using the bar at the very top of the site, in the centre. To access your member space, click on the house icon.

In this Member Space, you have a number of functions that we'll discuss further down. So don't hesitate to discover the interest and register on the site. To start off with, it will let you comment on news posts.
Whether it be new things on the site, Code Lyoko news in France or worldwide, advances in different fan projects, Lyokofan events or even information on the actors... ALL Code Lyoko news can be followed using our site.

To do this, it's not at all complex. The news feed always appears on the forum welcome page. CodeLyoko.fr is the only place where you can follow all the news, on all aspects of the show.

When it comes to the actors, you can access to their Twitter feeds on their respective pages.
Customization/Renders/Image gallery
Related products/Code Lyoko games/Flash games


Is your groupie/fanboy/fangirl side beginning to manifest? No worries. The site has everything you could possibly need to personalise your daily life in the colours of the series.

To unearth images with which to decorate your daily life

(computer, printed image for your room or whatnot)

, here are three inescapable links:
The "Image galleries" section groups thousands of images from the series, organised by episode or by characters/locations! Ideal for getting your hands on a precise image from the series!
In "Media", the Renders page collects multiple official character poses, on transparent backgrounds, with which you can make collages. It's the largest ever library of Code Lyoko renders on the net. There you'll also find HD images of backgrounds.
Finally, in "Related products", thanks to the "Customization" section, you can outfit your computer or Internet profiles in the series' colours (avatars, official desktop backgrounds, etc...).


If you're more of a material person than a graphical one, the whole "Related products" section is there for you. A complete database of all the series' related products: from figurines to video games and books!

Finally, for the no-lifes, you can kill time with the help of the "Flash games" section, which has a vast collection of Flash games. Completely non-constructive and absolutely perfect for killing time...
Also note that you can register your scores in certain games through the Member Space/ Are you ready to face the other LyokoFans?
Partners, Fanart/Fanfiction/Gems


If someone asked me what was unique about the Lyokofan community, I would immediately reply: its incredible creativity.

A good Lyokofan appreciates the creations of other fans...or participates themselves! Because when it comes to these things, there's something for everyone. Here's a brief tour of the "Your creations" section.

Through "Fanart", you'll find drawings, collages and graphic creations from the best users of Photoshop or GIMP.
We also have a "Fanfiction" section, but unfortunately it's all in French. However, I can tell you that it's where the stories written by the brilliant quills of our writers are there to be consumed. What better way to make the series live in forever than through the imagination of its fans...

As well as these two sections, there are the Gems Online. Gems Online is another ingenious system made by CodeLyoko.fr. It collects the community's most exceptional and talented creators. The cream of the crop. This ensures you won't have to spend hours on the Internet searching for a rare gem...

And the final pillar in the creative life: Fanprojects.
Thanks to its policy on centralising the Lyokofan life and its talents, CodeLyoko.fr has succeeded in grouping together all the best community Fanprojects, united in a single partner network!
But what is a fanproject? Everything! And nothing at the same time. It can be a video game, a handsewn Manta cushion, a cosplay of a hero, a FanMagazine, an animated film on the series. The common factor in all of this? Talent...and creation by one or more fierce and passionate fans.
Once again, we insist: you can't appreciate all the intellectual emulation of our community without at least once in your life having seen the perfection that is the IFSCL, or read Vélociraptor's comic, and that's not all.

Go on! Now it's your turn to enter the community!
You can get involved in the fierce debates and crazy games on the CodeLyoko-Evolved forum, our partner. Or if you know your French, you can use our own services, talk directly with fans of the series on our chatbox, or meet fans from other countries on our forum.
If you don't have that much time, you can always follow us from afar and send us encouragement via our social networks (Facebook, Twitter, Tumblr, Youtube).

If you want to send in your own fanfiction or fanart, you can do so through your Member Space. That's also where you can propose a news post if you manage to dig something up.

In "Files", some community files written according to fan opinions can help you immerse yourself immediately in the debates and subtleties of the community.
Team/History of CodeLyoko.fr/Code Lyoko events


Finally, we reach the last point of this second part...
If, after all that, you're wondering who is behind CodeLyoko.fr... Who is the team who, over these years, has built this vast edifice, there are still a few small things for you to visit.

In the "The site" section, click on the "Team" page and discover everyone who has participated through our profiles, workspaces, webcams, etc....

You can also discover the fabulous history of the site through a large file dedicated to it. And to conclude, you can also see in the Lyoko Events (Lyoko Universe section), all the great times when we met up in real life, and through which we have marked the grand steps in our series.
- Creators
Register on the forum to obtain commentary, help, advice as you carry out your work, whether it be graphical, written or something else.
Register on the site and log into the member space to send us fanfiction and fanart.

- Gamers
Are you looking for hints, help or information on the Code Lyoko video games? Everything is in the "Video games" section. Don't hesitate to try out the games developed by fans! They're really worth a detour.

- Social-gamers
Adept at the social game? Information on it can be found in the "Social game" section on the left-hand menu. If you're looking for allies or help, head to our partner's blog: by Shana!
Here you are at the end of the second part. You now have at hand all the elements you'll need to integrate perfectly into our great community. If you still have questions that you haven't yet found the answers to, the next page is the Frequently Asked Questions page! Maybe you'll have some luck there.