Hello everyone,

It's already been three years since the last findings of Dude Dudu were published. Three years of absence that have allowed us (through websites/portfolios that have disappeared, buying dubious merchandise on foreign websites or getting in contact with people who worked on the series in some capacity) to gather a small packet of findings along the lines of "You want it? You got it" (Warning, excessive usage of outmoded expressions is dangerous for your mental health).
And as of today, for your great (dis)pleasure (choose the most applicable term) you can find a first round of findings right here on the site, and it's gonna be big.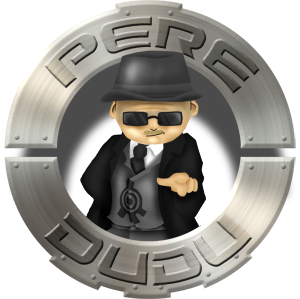 Today we'll start with merchandise, and not just any merchandise: the video games. In particular, the second release for Nintendo DS:
Fall of X.A.N.A
.
The page has recently undergone a nice facelift, starting with the characters page. All the sprites have been added, including some findings: sprites that were never used, ranging from different facial expressions for each character, to William's 360° sprite which you can find in the Monsters section, which is another page that has been updated to look much, much nicer.
Finally, to wrap things up with this game, the music has been reuploaded in a much better quality than was previously available.
To discover or rediscover the new stuff in this file, follow the Lyoko Warriors!

Here's a new category that was recently polished with dozens of new bits of information: the DVD category! A few years ago this category was reworked to present the covers and menus of the different editions of the French DVDs, as well as most of the English DVDs and some Spanish promotional DVDs. Today, this category is updated once again to include the Italian DVDs, more information on the Spanish ones (thank you Beric) and finally, cherry on the cake, the Canadian DVDs! Oh yes, they published a brand new edition with new menus and covers for them. At the time, you could even own all of season 1 of Code Lyoko on DVD before it had been released in France!

The English DVDs page has also been updated with scans of all but one of the DVDs (we'll get you someday, season 1 Amazon release...) as well as DVD menus. Thanks to semie78 for providing scans and menus of the Funimation DVDs.

To access the page, follow the holographic card!


Big news! One of the elements that codelyoko.fr was never able to get its hands on has finally been found and can be published on our site: the collection of DVDs and booklets published by Altaya in some parts of France, a series that was prematurely interrupted due to lack of success. As well as allowing lyokofans to discover all the episodes of season 1 on DVD for the first time (even before the complete season was released as a disc set), this collection also provided booklets alongside each DVD, containing loads of new information like exclusive interviews or never-before-seen storyboards.
Today, I offer you a PDF of the first issue of this collection. Of course, the page concerning this DVD collection has also been updated
on the site
.
In this first booklet, you'll find (in French):
- A detailed summary of each episode with images and some original storyboard drawings from the prequel episodes.
- Information on the factory, the concept of towers, Jeremy Belpois.
- An article on supercomputers.
- An article on the creation of Code Lyoko in terms of story writing.
- An interview with Sophie Decroisette.
- A "rumours" section looking at some emblematic elements of the cartoon, like Sissi's obsession with her appearance, Odd and Ulrich's friendship, and Jeremy and Aelita's love for each other.
- A colour-in page.
- Two riddles.
And even if you can't read French, there are plenty of interesting pictures to look at!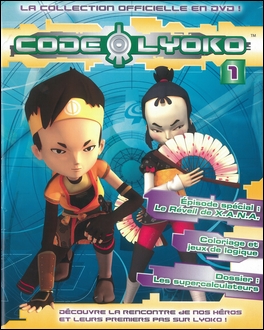 [The official collection: Booklet 1]
As well as the leaflets below: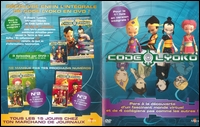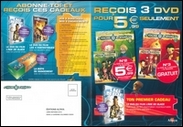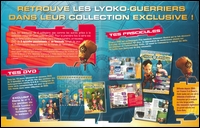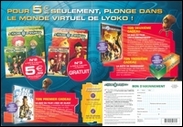 Stay tuned, the next issues are still to come ;)

A Code Lyoko Evolution that we kept at hand (thanks Beric) surfaces again today. It's a promotional video completely dubbed in English (the same dub they used in
the first video
as well as in the episode they aired on certain channels (Rivalry, which was also shown to the focus group in France)). The video includes sections that have never been seen in English before.

And finally, to finish this update, the famous
Renders
section welcomes a total of 20 little new additions (well...not
that
little). Monsters, 2D renders and 3D renders, some of which are over 4000 pixels in height or width! But first, let's remember the copyright notice that goes with them: Code Lyoko ™ © MoonScoop/ France 3 / Canal J – 2006. All rights reserved.
Along with these,
Aelita di Agostino
, who you'll know for her AMVs, has provided us with new renders that were cut out of different scans or images:
And finally, thanks also to Queen, who you'll know for the huge amount of work she's done on the site, for these renders below:
And just an additional note from the translator, a couple of translation updates on the site:
- First, the Graphic Bible has now been translated into English. The page scans haven't been touched and are still in French, but you'll find an English translation of the text just under the image gallery on the
Graphic Bible page
.
- Also, the translations of the official comics were in need of an update, so they've been redone with better editing and lettering and more coherent English translations. Due to technical difficulties we haven't yet been able to update the episode gallery pages with the new translations, but you can find all of the new pages in the ZIP download on the
comics page
.
And there you have it! That's all for today! Stay tuned for more findings very soon!